Description
ABOUT SHANKHPUSHPI (CONVOLVULUS PLURICAULIS)
Shankhpushpi (Convolvulus pluricaulis) is one of the most important herb used for its therapeutic benefits. It is consider as a well-known "brain tonic". The herb is considered as a tranquilizer and psychostimulant that reduces mental stress. Traditionally this herb is used to treat insomnia, nervous debility, fatigue and low energy level.
THERAPEUTIC USES OF SHANKHPUSHPI (CONVOLVULUS PLURICAULIS)
It acts as a nervine tonic
The powder supports blood circulation to the brain.
It is considered as a popular Rasayan for rejuvenating nervous functions.
Balances vata, pitta and kapha doshas in body.
The powder is also effective in dysentery and hypotensive syndromes.
Presence of ethanolic extract in the herb reduces triglycerides, serum cholesterols, phospholipids and nonesterfied fatty-acid.
It may help to control stress, promotes memory and concentration.
This herb has anti-stress, anti-depressive, anti-anxiety, anti-oxidant, mild anti-epileptic and mild anticonvulsant properties.
The powder deals with the symptoms like restlessness, irritability, mental stress, anger, vertigo, dizziness, moodiness and hallucinations.
INGREDIENTS OF SHANKHPUSHPI POWDER
| | | | |
| --- | --- | --- | --- |
| S. No. | Herb Used | Latin Name | Quantity |
| 1. | Shankhpushpi | Convolvulus pluricaulis | 100 gm |
BENEFITS OF SHANKHPUSHPI POWDER
Dementia and memory loss: This powder is beneficial for improving cognitive functions. It improves retention span and prevents brain cell damage.
In stress disorders and depression: The powder is beneficial in problems like physical changes in the brain, hormone changes and neurotransmitter imbalance. This powder increases the secretion of dopamine and make person feel alert and good.
In Headache: The powder cures headache related with mental workload, stress, mental weakness and improves nervine function.
In mental fatigue: Intake of this powder removes all the root cause of mental fatigue.
Benefits in mental hypersensitivity and autism: This powder deals with the root cause of hypersensitivity of nerves in highly sensitive person. Autistic children are also treated with this powder.
Good for respiratory tract infections: It helps to clear the air channels and also enhances immunity to fight against the various viral or bacterial infections. This is known to be a good herb in the treatment of respiratory complications like common cold, cough, asthma and bronchitis.
Beneficial in urinary tract disorders: It helps to provide relief in the symptoms like painful urination, swelling of urethra, burning sensation etc. Use of this herb is very beneficial in the treatment of urogenital disorders.
Good effect in sleeping disorders: This herb is good to manage the insomnia and sleeping disorders in people.
Shows few aphrodisiac properties: In males it helps to enhance sperm production and also improves the quality of sperms.
WHO SHOULD USE SHANKHPUSHPI POWDER?
Use of this powder is very beneficial for the patients who suffer from memory loss, dementia, stress disorders, mild convulsions, depression, epilepsy, anorexia nervosa, schizophrenia. This powder is also beneficial in conditions like flatulence, loss of appetite, abdominal discomfort, hematemesis and recurrent miscarriages.
CLASSICAL REFERENCE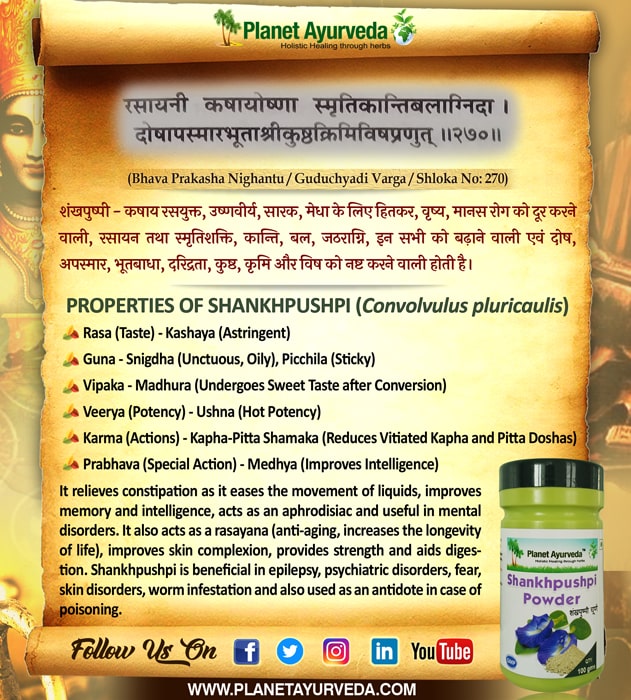 DOSAGE
Half to one teaspoonful of this powder should be consumed along with plain water after meals, two times in a day.
PRODUCT INFO
Package Type: Herbal Powder.
Package Quantity: 100 gm Bottle.
This product is free from chemicals, preservatives, yeast, pesticides, microbes, heavy metals, fillers, starch, raw powders etc.
SIDE EFFECTS
There are no known side effects with the usage of this medicine. But care should be taken to consume this herbal medicine in the prescribed dosage.
ADVANTAGES OF USING SHANKHPUSHPI POWDER BY PLANET AYURVEDA
Planet Ayurveda has manufactured this unique herbal formulation as per industry standards and there are several reasons which make it superior to any other similar products available in the market. They are:
Only pure herbal powders and no other chemicals or preservatives are used in the preparation of this herbal formulation.
For ensuring better results, only pure herbs are used.
Planet Ayurveda offers only quality product at reasonable and competitive prices.
Testing of the medicine is not done on animals.
Place your order now and enjoy the benefits of Planet Ayurveda's Shankhpushpi Powder. Opt for other Planet Ayurveda products as well for a healthy lifestyle. Choose from our wide range of Ayurvedic supplements, capsules, herb powders and oils and order conveniently through our website.