Always Ayurveda is a sister concern of Planet Ayurveda [USFDA Regd], GMP certified, ISO 9001-2008 Certified Manufacturing unit based in India with the company name Krishna Herbals, owned by Dr. Vikram Chauhan (MD-Ayurveda).
Dr. Vikram Chauhan is MD In Ayurveda – and having expertise in medicinal plants from all over the world. He believes in nature's relieving power and working since 1999 to spread the knowledge of Ayurveda –the traditional healthcare system of India.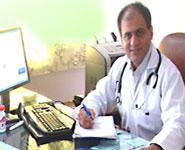 Dr. Vikram Chauhan continuously shares his thoughts and experiences of day to day clinical practice through his blog – www.alwaysayurveda.net and so many people appreciated his efforts to help others.
This website is dedicated to his blog and to people who are suffering from so many dreadful diseases. Dr. Vikram observed that over the interent there are so many companies selling individual herbal products which are sometimes not the correct way of relieving troublesome diseases.
Every individual is unique in constitution and he needs a set of ayurvedic supplements which work in a synergistic manner to restore the balance of Vata-Pitta-Kapha and thereby acting on tridosha. So using the unique knowledge of combining various herbs according to their effects on doshas, Dr. Vikram chauhan has developed some combo packs, which are balanced in nature, have positive effects on Tridosha and are very well tried in his own clinic to effectively relieve various health concerns.
We do not spend money on marketing but we are focused on providing the quality. Dr. Vikram chauhan says if the quality of the product is good, then it will create a niche for itself in the market on its own. He also wants to give a message to other manufacturers that if they keep their intentions to relieve the patients, then there is no need to spend money on marketing. The market will come to you automatically.
It is all because of such thoughts; all these formulations got popularity around the world quickly because of their efficacy.
Our main focus always remains on quality and using the best quality herbs and standardized extracts to be made into international quality herbal supplements in a GMP certified facility.
We get a lot of encouraging testimonials everyday. We assure you quality products, quality service and excellent results.
We have regular distributors in many parts of the world and there are many satisfied patients who have used our products and are using regularly and recommending to their friends and relatives.
We welcome people who want to be our distributors in their territories. Please don't hesitate to write to us. We will be glad to get back to you quickly within 24 hrs. or less.
FOR CONTINUOUS HEALTH UPDATES AND ARTICLES – DO VISIT – WWW.ALWAYSAYURVEDA.NET