WHAT IS ASTHMA?
Asthma is a respiratory disease characterized by shortness of breath and recurrent attacks of breathlessness accompanied with wheezing. The condition arises due to inflammation of the respiratory passages that reduces the space for air movement in and out of the lungs. The frequency of these attacks varies from person to person.
WHAT IS ALLERGY?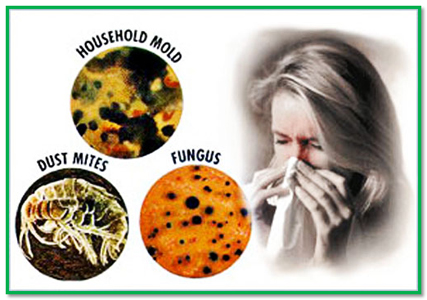 An allergy is defined as the over-reaction given by our immune system to any substance or organism that induces swelling, inflammation, rash, and sensitive skin in the person's body. It could be due to some chemical, pollen particle, microorganism, or any other foreign particle.
WHAT ARE THE CAUSES OF ASTHMA/ALLERGY?
A variety of causes can be attributed to the appearance of asthma and allergy in any person. Listed here are a few of them:
A family history of asthma or allergy
Genetic
Tobacco smoke: active or passive
Food allergy
Infections in airways and chest
Being exposed to allergens
Airborne allergens
Medications
Psychological factors
Weather changes
WHAT ARE THE SYMPTOMS OF ASTHMA?
The common symptoms seen in asthmatic patients are:
Shortness of breath
Wheezing
Recurrent episodes of coughing with acute breath shortness
Tightness in the chest
HOW CAN AYURVEDA HELP IN MAINTAING ASTHMA AND ALLERGIES?
Ayurveda is an ancient Indian system of medicine that makes use of herbs existing in the nature and formulates herbal remedies using the inherent power present in these herbs. We in Ayurveda believe that herbal remedies bring to you the richness of the herbs in a natural, unadulterated form. These combinations help improve immunity and provide strength, endurance and will.
Ayurveda uses the inherent power of natural herbs to bring about wonderful results on the human body. The herbs are natural and 100% safe. Ayurveda helps to naturally enhance the body functioning in an herbal way. The herbs for asthma and allergy help decrease the asthma symptoms in an herbal natural way. The ayurvedic herbs for asthma aid in the betterment of the respiratory system and prevent asthma.
HERBS IN AYURVEDA THAT HELP IN ASTHMA AND ALLERGY
BAMBUSA ARUDINACEA (VANSHLOCHAN)
This Ayurvedic herb acts as a suppressant of cough and help keep the respiratory system clean. It helps in problems like dry cough and sore throat. We use this herb in Kaas-har churna.
PIPER LONGUM (PIPPALI)
Pippali is very effective in case of mucus and cold conditions in the lungs. It enhances vasodilatation and blood circulation to the lungs. It has decongestant, bronchodilator and expectorant properties. It rejuvenates the lungs. People who are prone to frequent colds can get relief from the symptoms by using Pippali. This herb is used in our product kaas-har churna.
ELLETTERIA CARDAMOMUM (ELA)
It is commonly known as cardamom. Its seeds possess warm and pungent properties. It has a sweet taste and reduces Vata and Kapha. This herb is effective in sore throat and hoarseness caused because of influenza and cold. The sweet aromatic flavour of the seeds helps as a breath freshener. These seeds are used for depression, impotency, oral disorders and hiccups. The oil extracted from the seeds is used in pharmacy, perfumery and for flavouring curries and desserts. Kaas-har churna has this herb.
CINNAMOMUM ZEYLANICA (DALCHINI)
It is also a common spice used in Indian cooking. It shows properties which act against the pathogenic microbes present in the respiratory tract. Cough related problems can be eliminated effectively by using this herb. It helps in expelling excess mucus from the lungs and respiratory tract. Breathing difficulties like cough, cold and bronchitis show positive results with this herb. Cinnamon leaves can be boiled and the decoction can be used to relieve flatulence. It improves memory and complexion. A pinch of cinnamon powder should be mixed with honey and consumed regularly for better results. It acts as a mouth freshener. A paste of cinnamon powder can be mixed with few drops of lime juice and applied on acne and pimples. It forms an integral part of Indian Ayurvedic system since ages. It soothes cough and cold related symptoms. The herb is used in kaas-har churna and Praanrakshak churna.
AZADIRACHTA INDICA (NEEM)
People in India use Neem herb on a daily basis owing to its rich medicinal effects on the health. It is widely used as a dental and gum cleaner to protect from oral infections and bad breath. Gingivitis, bleeding gums and toothache are also relieved by using Neem regularly. Another of its famous sue is as a skin disinfectant. It is widely used in soaps, shampoos and body washes and is believed to have relieving action on pimples. Some of its miraculous actions of these herbal capsules can be seen in diseases like diabetes and arthritis. It is due to its antibacterial properties that it is used in a lot of toothpastes and mouthwashes. Neem works wonder in medical conditions like bee stings, conjunctivitis, hemorrhoids, and ulcers and even in cases of bronchitis and epilepsy. Practitioners have drawn marvelous results in cases of skin diseases like psoriasis, acne and eczema. It is part of our products Aller-g- care and allergy care pack.
CURCUMA LONGA (CURCUMIN)
Owing to its rich medicinal properties, Curcumin is a widely used herb in case of cancer. Many malignant cancers have found their management in Curcumin. Anti-oxidants present in the herb reduce the free- radicals from the body thereby improving the health and immunity. Curcumin herb has rich anti-diabetic properties that make it a wonderful herb to use for diabetic patients. It is a famous Chinese medicine to relieve digestive and liver related diseases. Its anti- inflammatory properties make it a strong herb for various allergies, infections and inflammations. The herb has the power to fight against toxins and infections owing to its rich anti-biotic properties. It is used in many cosmetics due to its beneficial actions on the skin. We use Curcuma longa to prepare CURCUMIN capsules.
PLANET AYURVEDA HERBAL PRODUCTS, WHICH ARE HELPFUL IN THE MANAGEMENT OF ASTHMA AND ALLERGY