Description
TULSI POWDER – MOST EFFECTIVE MEDICINE FOR RESPIRATORY DISORDERS
Tulsi Powder is the most effective medicine in powder form for relieving cough, cold, flu, asthma, bronchitis and any types of respiratory disorders. This wonderful medicine is not only beneficial in these disorders but also beneficial in many other diseases. This medicine is good for health and safe for use.
THERAPEUTIC USES OF TULSI POWDER
The herbs used in the preparation of Tulsi powder has soothing effect on body. This medicine is used in relieving various disorders mentioned below:
This powder is beneficial in relieving cough, cold, flu, chest congestion, fever, headache, sore throat etc.
This powder is beneficial in treating respiratory ailments like asthma, chronic bronchitis etc.
This powder has anti-diabetic activity as it can reduce abnormal lipid profiles and reduces blood glucose level in the body.
This medicinal powder is beneficial in skin problems caused due to bacteria and infections.
This herbal powder is also beneficial in skin cancers as they increase antioxidant activities, induces the growth of cancer cells. This powder purifies blood.
Tulsi powder has amazing ability to regulate cortisol levels balance hormones naturally.
The powder of this herb has antibiotic, disinfectant agents, germicidal, anti-bacterial, anti-viral effects in it which helps in fighting against fever.
This herbal powder has good source of vitamin K in it which is beneficial for digestive health, brain function and bone density.
Tulsi powder has anti-congestive property which helps in relieving migraine pain and reduces tension due to sinus issues.
This powder helps to prevent eye issues like vision defects, eye issues, glaucoma, macular degeneration, blurred vision etc.
This powder contains vitamin-C and antioxidants like eugenol which reduces cholesterol levels in blood.
INGREDIENTS USED IN THE PREPARATION OF TULSI POWDER
| | | | |
| --- | --- | --- | --- |
| S. No. | Herb Used | Latin Name | Quantity |
| 1. | Tulsi | Ocimum tenuiflorum | 100 gm |
BENEFITS OF TULSI HERB
This is a most common herb in Ayurveda which has many wonderful properties in it. This herb contains constituents like camphene, camphor, cadinene, borlyacete, eugenol, methyl ether, limonene etc in it. This herb balances vata and kaphadosha in body and increases pitta dosha in body. This plant contains components like camphene, cineole, eugenoletc in it which is beneficial for chronic and acute respiratory disorders, bronchitis etc.
CLASSICAL REFERENCE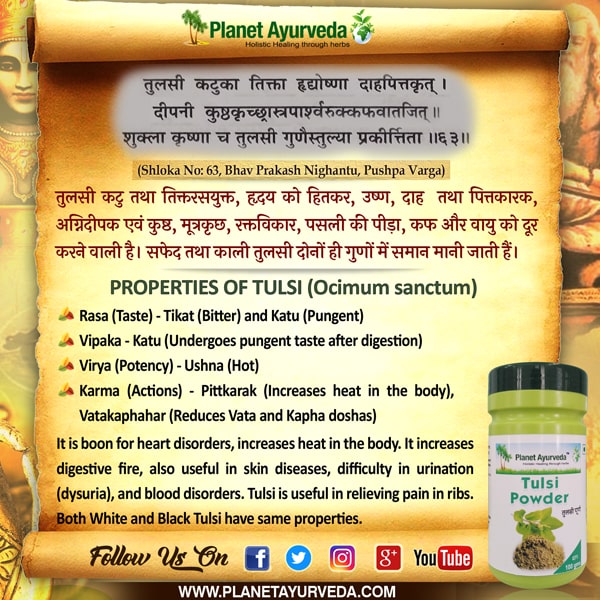 WHO CAN USE TULSI POWDER?
The persons who are suffering from heart disease, respiratory disorders, kidney stones, stomach problems, skin diseases, headache, fever, lung disorders, diabetic person etc. should use this powder. This herb has antimicrobial, antioxidant, Adaptogenic properties in it which enhances body's ability to adapt stress.
DOSAGE
Half to one teaspoonful of this powder should be consumed along with plain water after meals, two times in a day.
PRODUCT INFO
Package Type: Herbal Powder.
Package Quantity: 100 gm Bottle.
This product is free from chemicals, preservatives, yeast, pesticides, microbes, heavy metals, fillers, starch, raw powders etc.
SIDE EFFECTS
There are no known side effects with the usage of this medicine. But care should be taken to consume this herbal medicine in the prescribed dosage.
ADVANTAGES OF USING TULSI POWDER BY PLANET AYURVEDA
Planet Ayurveda has manufactured this unique herbal formulation as per industry standards and there are several reasons which make it superior to any other similar products available in the market. They are:
Only pure herbal powders and no other chemicals or preservatives are used in the preparation of this herbal formulation.
For ensuring better results, only pure herbs are used.
Planet Ayurveda offers only quality product at reasonable and competitive prices.
Testing of the medicine is not done on animals.