Description
Neem ayurvedic herbal capsules are a preparation of the purest form of high-quality "Neem" used for various skin diseases. These herbal products have a magnificent range of actions.
Blood purifier
Systemic purifier
Anti-bacterial action on the skin
Anti-fungal action on the skin
Rich in anti-oxidants
Wonderful action on the oral cavity
Skin nourishing and beauty enhancing actionsRich in anti-oxidants
PRODUCT DETAILS
What are Neem capsules?
On the Indian subcontinent, Neem is one of the vastly seen herbs. It is indigenous to the whole country. Physicians since the ancient times have used this miraculous drug for various health related ailments. Almost every part of the herb has been tested to have medicinal properties. Its seeds, fruits, bark and leaves all have proved to contain ingredients of health benefits. The ayurvedic herb has been into use for a wide range of diseases since ages. Research has proved it to have antibacterial and antiviral properties, thus the herb finds its use as a regular therapeutic drug and an herbal product.
What are the benefits of Neem?
People in India use Neem herb on a daily basis owing to its rich medicinal effects on the health. It is widely used as a dental and gum cleaner to protect from oral infections and bad breath. Gingivitis, bleeding gums and toothache are also relieved by using Neem regularly. Another of its famous sue is as a skin disinfectant. It is widely used in soaps, shampoos and body washes and is believed to have relieving action on pimples.Some of its miraculous actions of these herbal capsules can be seen in diseases like diabetes and arthritis. It is due to its antibacterial properties that it is used in a lot of toothpastes and mouthwashes. Neem works wonder in medical conditions like bee stings, conjunctivitis, hemorrhoids, and ulcers and even in cases of bronchitis and epilepsy. Practitioners have drawn marvelous results in cases of skin diseases like psoriasis, acne and eczema.
INGREDIENTS
| | | | |
| --- | --- | --- | --- |
| S. No. | Herb Used | Latin Name | Quantity |
| 1 | Neem | Azadirachta indica | 500 mg |
Neem ayurvedic herbal capsules are prepared from 100% pure extract taken from the Neem herb. The product is processed and packaged in the capsule form. The Neem tees are grown in the best quality soil and in the cleanest environments. The whole process involves minimal human intervention so as to make the product available in an unadulterated form.
Neem herb acts on the blood of the body thereby purifying it and thus helping various body systems like the skin, digestive system, oral hygiene and the immune system on the whole
CLASSICAL REFERENCE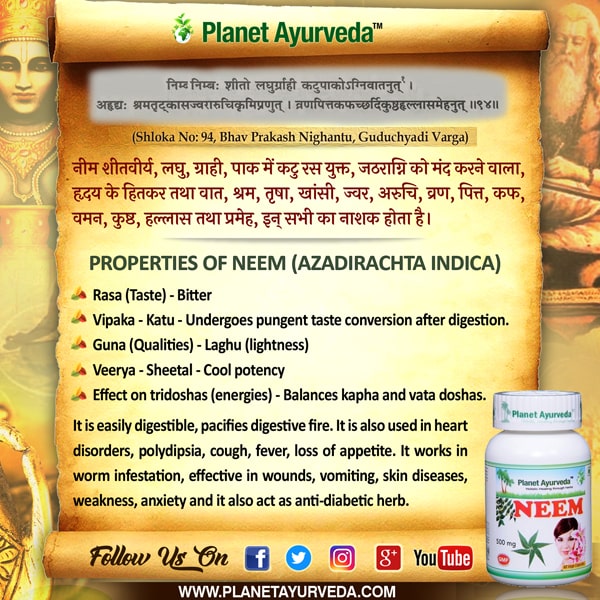 HOW TO USE
How can I use Neem daily?
Neem Ayurvedic capsules are an easily available convenient to use veggie capsule formulation that should be consumed as a whole with water. Adults can take a daily dosage of 1-2 capsules with milk or water after meals. For children one capsule per day is the recommended dose.
The natural, Indian herbal Neem leaves behind no side effects. Its regular usage for long periods is considered safe. The capsules can be used as per choice and there are no withdrawal or habit forming symptoms seen.
Caution: However, Neem has no known side effects, pregnant females and lactating mothers should consume it only under medical supervision.
How long would Neem capsules take to show results?
Neem is a complete pure form of the best high-quality herb by the Latin name Azadirachta indica. For the reason that it is a 100% pure ayurvedic herbal formula without any adulteration, it starts its natural actions as soon as you start taking the capsules. The visible outer effects may take about 4-6 weeks to appear. Therefore, it is recommended that the user be patient to experience the wonderful effects of the remedy. In certain cases the results may also be delayed depending upon the medical condition of the individual, such like his mental health, physical illnesses and also the metabolic condition of the body. There have been cases where individuals show results within a week's time also.
**The effects of herbal preparations and herbal product are natural and everlasting in contrast to the immediate yet short- termed results given by the pharmaceutical drugs. The natural drugs work on the individual's immunity thereby relieving the individual as a whole. This may take a certain longer period of time but the effects are there to stay!!
So as to ensure best outcome, it is recommended to consume the product regularly per the recommended dosage. Regular intake of Neem is highly recommended for overall healthy heart.
How long will a single bottle of Neem capsules last?
A single bottle of Neem contains 60 herbal natural capsules. A bottle should last anywhere from 15 to 30 days depending upon the dosage and frequency of consumption. For best results regular intake of the capsules is highly recommended.
RESEARCH
Neem is one of those ayurvedic herbs that have a comprehensive range of actions and results. It has proved beneficial for many health problems. Its antibacterial properties make it a vital component of a variety of cosmetics. It is bound to reduce antibacterial activities in mouth, cavities and gum disease. It also has anti-fungal components and thus helps control and prevents infections like ringworm, candida, athlete's foot, etc.Owing to its numerous health benefits scientists and researchers worldwide have shown keen interest in this herb. Various researches have proved its anti-arthritis and anti-inflammatory properties. Even so, its anti-oxidative properties have been proved through research.A recent research shows that it has wonderful effects to relieve the Dengue fever that has caused a serious terror in the growing economies as well as the developed world. Research is under process for its role in cancer management and the results are very positive.