Description
Effective herbs and herbal supplements to fight Asthma
| | | |
| --- | --- | --- |
| S. No. | Products | Quantity |
| 1 | Praanrakshak Churna | 1 Pack (200gms) |
| 2 | Aller-G Care | 2 Bottles (120 capsules) |
| 3 | Tulsi Capsules | 2 Bottles (120 capsules) |
Product Quantity is as per dosage required by Adults – For Patients Under Age 14 – This Quantity will last for 2 Months
WHAT IS ASTHMA?
Asthma is a condition affecting the airways that carry air to and from your lungs. People suffering from this chronic condition (long- lasting or recurrent) are said to be asthmatic. Asthma causes swollen or inflamed airways which lead to difficulty in the respiratory process. Also, swelling and inflammations can cause irritation and there is always an increased risk of allergic reactions taking place.
WHAT ARE THE CAUSES OF ASTHMA?
Ayurveda is an Indian ancient system of medicine that works on the principles of curing diseases in an herbal natural way using the efficacy of the herbs present in nature. Our herbs bring with them some wonderful inherent powers that have the calibre to bring in some of the most astonishing results.
As per the principles of Ayurveda, our body thrives on the balance maintained by three vital energies. They are the Vata, Pitta, and Kappha. These energies symbolize the three basic elements of life, namely, Air, Fire, and Cough. The symbolic meanings represent the constitution of our body and the resulting disturbances due to imbalance in their synchronisation. An excess of kappha may lead to more of cough and lung related issues and an overflow of Vata may be related to gastric disorders.
Asthma is generally a result of imbalance between these energies and can also be caused by:
Certain allergies like allergy to dust.
Specific food items like dairy products.
Chemical irritants in the environment.
Extreme emotional arousal.
PLANET AYURVEDA'S HERBAL SUPPLEMENTS TO FIGHT ASTHMA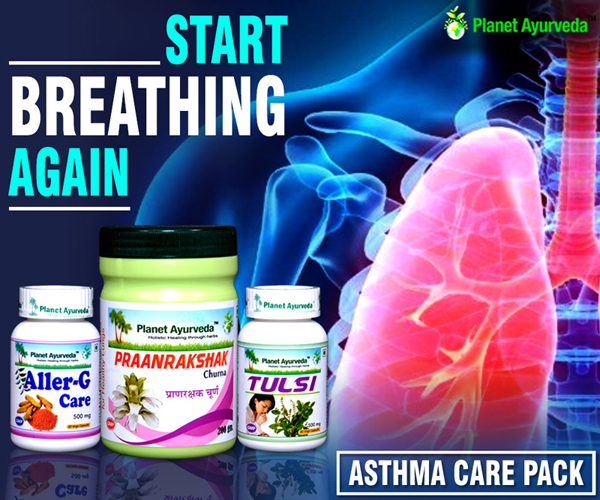 1. PRAANRAKSHAK CHURNA
A completely herbal and pure natural preparation of Plant Ayurveda, Praanrakshak churna is extremely useful in case of asthma, allergies, and other respiratory disorders. It is used to improve the immune powers of our body.
The churna is prepared using the herbs:
Cinnamomum Zeylanica: It is an effective anti-spasmodic, carminative, astringent and anti-septic. It can relieve loss of appetite, bronchitis, colic and asthma. It can alleviate inflammation and the other factors related to inflammations.
Albezzia Lebbock: It is very useful herb to remove accumulated poisons metabolites from produced within the body. According to Ayurveda, the poisonous substances are intermediate metabolites of carbohydrate, protein and fat metabolism.
Adhatoda vasica: It is useful in managing bronchitis, tuberculosis and other lung and bronchiole disorders. A decoction of the leaves can be used as an herbal management for cough and other symptoms of colds. It helps to loosen up phlegm.
Tylophora Asthmatica: Tylophoraindica is used for the management of allergies, cold, dysentery, hay fever and arthritis. It has reputation as an alternative and as a blood purifier, often used in rheumatism and syphilitic rheumatism. Root or leaf powder is used in diarrhea, dysentery and intermittent fever. Dried leaves are emetic diaphoretic and expectorant.
Glycyrrhiza Glabra: The herb helps to maintain a balance in the estrogen levels in the body, as high levels of this hormone can cause menstrual problems. It is very essential to overcome the effects of stress and fatigue.
Dose – 1 teaspoonful twice daily or take 1 tsp. of the powder and boil in 400ml water until it remains 50-60ml. approximately. Then strain it and drink at room temperature. Try to make it fresh every day. Take it twice daily after breakfast and dinner.
2. ALLER G CARE
The Asthma Care Pack is an Ayurvedic formulation that has a combination of the best Ayurvedic herbs that work best in allergic conditions.
The product is made up of the following herbs:
1. CURCUMA LONGA (HARIDRA)
The herb Haridra, botanically known as Curcuma Longa, is a common herb. It is maybe the commonest of all herbs used since the ancient times. Haridra is known by the name of Turmeric for household purposes. It is highly effective in allergies and rhinitis.
It is a rich herb with multiple health benefits and wonderful health results. Turmeric has anti-biotic, anti-inflammatory, anti-diabetic properties that make it a staple ingredient in many such remedies.
2. AZADIRACHTA INDICA (NEEM)
Neem has wonderful disinfectant and cleaning action on the body systems. It works very well on infections, allergies and inflammations.
People in India use Neem herb on a daily basis owing to its rich medicinal effects on the health.
Neem works wonder in medical conditions like bee stings, conjunctivitis, hemorrhoids, and ulcers and even in cases of bronchitis and epilepsy.
Practitioners have drawn marvelous results in cases of skin diseases like psoriasis, acne and eczema.
3. WITHANIA SOMNIFERA (ASHWAGANDHA)
The herbal product of Ashwagandha is believed to possess naturally rejuvenating properties to the body. All such medical issues related to fatigue, stress and weakness are managed using this herb.
The rejuvenating properties help Ashwagandha to act over allergies, inflammations, and infections in a natural way.
Dose – Two capsules twice daily after meals with plain water.
3. TULSI CAPSULES
The Tulsi herb is worshipped in the Indian sub continent as holy herb and its ingredients taken as the holy water. Tulsi inherits in it, the wonderful powers of nature that bring about healing in a natural way.
Tulsi has a strong aroma and thus forms components of various herbal products and teas.
The reason for its use in teas is that it is especially beneficial to the throat and chest.
Tulsi has effective results on the overall respiratory system.
Tulsi herb has wonderful antioxidant properties and it is believed to remove anti-oxidants from the body.
It is believed to relieve everyday infections like common cold, flu and headaches too.
Tulsi leaves are used to prepare tea to relieve common cold.
Tulsi has anti-inflammatory properties and is beneficial in respiratory inflammations like rhinitis and sinusitis.
Regular intake of Tulsi helps give relief from croupy cough.
Tulsi is a part of various cough syrups and prevents cold, cough, and flu.
Dose – Two capsules twice daily after meals with plain water.
HOW CAN OUR Asthma Care Pack HELP YOU?
Ayurveda holds in its womb answers to abundant health problems. Its natural herbs help relieve us of our health and medical conditions in a natural and healthy way. These herbs bring with them the inherent powers of nature to improve the immune system and help recover the body of all its ailments. The Ayurvedic principle works on the inherent powers of the herbs that have the ability to bring the three vital energies back into harmony. The restoration of balance of energies leads to proper functioning of the body system and the improvement in the working of the important organs.
Our Asthma Care Pack is a complete solution to all the types of asthma problems. It has the perfect mixture of the effective herbs described in Ayurveda as the best anti-inflammatory and anti-allergic herbs. These herbs work naturally to moderate asthmatic conditions. Our Asthma Care Pack consists of special herbs which work in unison to take care of all the severe allergies that can take place during chronic asthma. The herbs effectively relieve the allergies off the immune system and bring in a perfect harmony amongst the energies which results in perfect balance and health.
We at Planet Ayurveda offer you a wide range of herbal supplements that take care of your health and life. Our formulations are 100% herbal and prepared after passing through a series of effective and stringent tests that assure their quality. We put in our best efforts to bring to you the best of herbs in their purest form. Our products are prepared under completely hygienic environments and they pass quality check before reaching you.