ARJUNA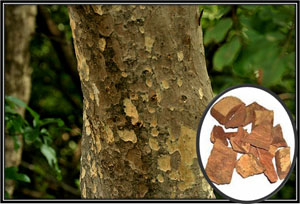 Arjuna Tree is known as Nadisarjja in Sanskrit. The common names used in India are Arjuna and Kahu. It has been used in Ayurvedic medicines for the past several centuries. The bark of the Arjuna tree is used for relieving heart diseases. It is found to be exceptionally effective in relieving various heart ailments.
The botanical name for Arjuna tree is Termanalia Arjuna. Arjuna tree is native to India. It is widely found in the Deccan region, sub-Himalayan tracts, Srilanka and Myanmar. It is usually grown in marshy areas and along water bodies.
Several studies are being carried out to understand the power of Arjuna tree in recent times.
CHARACTERISTICS OF ARJUNA
Terminalia Arjuna is a deciduous, tall tree which reaches up to 60 feet height. The bark of the tree is soft and thick with gray colour on the outer surface and reddish tinge inside. It easily flakes off in flat large pieces. The leaves of the tree are oblong in shape and flowers appear in clusters. It has small oblong fruits. A milky juice comes out when the bark is cut from the tree.
Antheraea paphia moths which produce tussar silk feed on the leaves of Arjuna tree.
THERAPEUTIC POWERS OF ARJUNA
The bark of the Arjuna tree works as a cardiac stimulant. It is beneficial in arresting bleeding. It also helps in reducing fever. Stones or calculi formed in the kidney or urinary system can be expelled with its usage. Flow of bile juice is promoted and it also fastens the relieving of wounds.
NUTRIENT COMPOSITION
The bark of the Arjuna tree contains higher quantities of calcium and in small amounts magnesium, aluminium and tannins are seen. Lactone, arjunine a crystalline compound, arjunetin essential oil and sugars are present in the bark of the tree.
Because of the presence of flavonoids and glycosides, it has anti-oxidant, anti-inflammatory, lipid lowering capacity and works like a cardio tonic. It has been observed in rodents that the antioxidants protect the tissue of the heart from damage.
Tannins from the bark are used in the manufacturing of ink and leather.
CARE FOR AILMENTS
Heart Disorders: Preparations made from the bark of the tree stimulate heart cells. Ayurvedic practitioners prescribe them for conditions like dropsy and cardiac failure. As a heart tonic, the decoction made from the bark of the tree should be mixed with milk and consumed in the morning on an empty stomach. If it is used in powder form, 0.75 to 2 grams is the dosage to be used with jiggery or milk. Arjuna tree bark has blood thinning agents and hence dilates the blood vessels. Various studies show that the bark of Arjuna tree has remedial properties which can efficiently relieve coronary artery disorders.
Asthma: The powder of the bark is used for relieving patients suffering from Asthma. It is believed to give relief to patients suffering asthma and related disorders.
Fractures: The bark of the tree when mixed with honey is said to strengthen bones and relieve fractures quickly.
Dysentery and Diarrhea: The powder of the bark is made into a decoction. Persons suffering from dysentery and diarrhea should consume this mixture in dosage of 15 to 30 grams for getting relief.
Acne: An ointment made with the bark of the tree and honey should be applied on acne for faster relief.
Other ailments: For relieving earache, fresh juice of Arjuna tree leaves can be used. Decoction made from the bark of the tree can be used as an astringent to clean ulcers, sores and syphilitic sores. The powder of the bark if taken with milk regularly works as a sex stimulant.
SAFETY AND PRECAUTIONARY TIPS WHILE USING ARJUNA HERB
The adverse effects of the Arjuna herb are not fully known. But it is preferable to use the herb in limited quantities. There is a possibility of damage to liver or reduction in thyroid activity if taken in higher doses. It is better to consult a registered medical practitioner before administering any herb or medicine.
PLANET AYURVEDA PRODUCTS THAT USE ARJUNA HERB
It is our constant endeavour at Planet Ayurveda to provide natural and quality herbal products. All our products are made with 100 percent vegetarian and natural ingredients which undergo several quality checks before they are packed. We never believe in testing our products on animals. Please choose the products of Planet Ayurveda for a happy and healthy living.