HYSSOPUS OFFICINALIS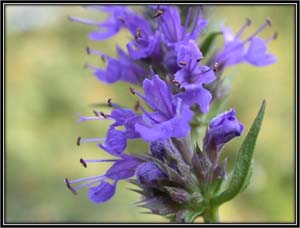 Hyssopus Officinalis, more commonly called Hyssop is a garden herb that belongs to the Lamiaceae or mint family. The Hyssop plants are native to Southern Europe and Central Asia.
This herb not only has several medicinal properties, but is also used as a flavoring agent in vegetables, fish, salads, meats and sweets. The oil contained in the leaves of this plant is used for making perfumes.
CHARACTERISTICS OF HYSSOPUS OFFICINALIS
Hyssops are perennial plants. These shrubs can grow upto 2-5 feet tall. The stems of this plant are slim and slightly woody; its spear-shaped leaves grow in pairs on the stem. These plants generally bloom between June to September. The flowers grow in bunches and their color may vary depending upon their variety; the flowers can be pink, purple, white and blue. The plant is self fertile.
While the plant has a sweet fragrance, it tastes bitter.
THERAPEUTIC POWERS OF HYSSOPUS OFFICINALIS
Hyssop has been used for medicinal use since long, in fact in the ancient ages it was regarded as 'relieve-all' herb. Even today it is used as a common household remedy especially for ailments like sore throat and stomach related ailments. All parts of this plant that grow above the ground including its leaves, flowers and stems are used for therapeutic purposes.
THIS HERB CAN BE USED AS AN:
Antiseptic
Cough Reliever
Expectorant
Astringent
Antiseptic
Carminative
Pectoral
Diaphoretic
Stomachic
Tonic
Sedative
Anti-inflammatory
NUTRIENT COMPOSITION
Hyssop contains flavonoids, diterpenoid lactones, phenolic acids and oleanolic acid. The essential oil of this plant contains ketones. The antiseptic properties of this plant come from the chemicals thujone and phenol in it.
CARE FOR AILMENTS
Hyssopus Officinalis is extremely useful in relieving a wide range of ailments. Some of these are:
Throat and Chest Infections: Hyssop's expectorant properties are extremely useful in relieving coughs, congested chests, sore throat, asthma, bronchitis, upper respiratory tract infections, fever and cold.
Digestion: The herb is often prescribed to aid digestion and to provide relief from colic and flatulence. It can also be used as a tonic for the stomach.
Skin Disorders and wounds: Hyssop is used topically for relieving cuts, bruises and burns. This herb is also used to relieve sprains, strains and black eye.
Round worms: Extracts from this plant help kill intestinal worms including round worms.
Renal disorders: Hyssop is useful in relieving urinary tract infection, uterine and other urinary problems.
Menstrual Problems: Extracts from this herb are often advised for relief from menstrual cramps.
SAFETY AND PRECAUTIONARY TIPS WHILE USING HYSSOPUS OFFICINALIS
Hyssop should not be used by people suffering from epilepsy of fits. The volatile oils of this herb can also at times cause convulsions. This herb should not be used by pregnant women as it can lead to a miscarriage. The herb should also be avoided by high blood pressure patients.
High doses of the Hyssop essential oil should also be avoided, since this oil contains pinocamphone, which is a toxic. Before using any herbs it is advisable to consult a medical practitioner.
PLANET AYURVEDA PRODUCTS THAT USE THIS HERB
Hyssopus Officinalis is not used as an ingredient in any of the current planet Ayurveda products; however our product – Aloe Vitals helps relieve several ailments that Hyssop does.
Planet Ayurveda manufactures a wide range of Ayurvedic Medicines that help relieve all kinds of ailments; from simple ones like the common cold to complex ones like kidney and liver diseases. All our products are vegetarian and made from 100 percent natural ingredients. Our organization aims at providing the highest quality herbal supplements for the global market.