ERVATAMIA CORONARIA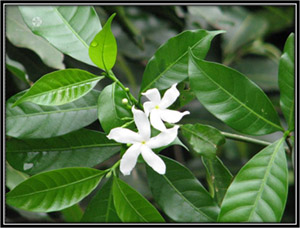 Ervatamia Cornaria is also known as Chandi or Taggar in Hindi. It is commonly called East Indian Rosebay across the world. This small perennial shrub has a round stem that has a diameter of almost 25cms. The bark of the shrub is grayish-white in color, cracked and silvery. It usually grows to the height of two meters. The Ervatamia Coronaria belongs to the family of Apocynaceae.
CHARACTERISTIC OF ERVATAMIA CORONARIA
Ervatamia Coronaria has numerous branches that form a dense crown. It has simple elliptical long leaves that are dark green in color. The flowers of the plant are white and delicate with a pleasant fragrance. The shrub produces a milky juice when cut. This milk like juice is known for its beneficial reliever properties.
NUTRIENT COMPOSITION
Ervatamia Coronaria contains alkaloids, coronarine, a crystal like resin alcohol, caoutalline and tabemaemontanine.
THERAPEUTIC POWERS OF ERVATAMIA CORONARIA
The leaves of Ervatamia Coronaria do not have a distinct taste and tend to get soapy when crushed. The cellulose content in the shrub makes its very soft and is usually used to relieve skin ailments that are caused mainly due to worms.
The major uses of Ervatamia Coronaria are as follows:
It has reliever properties that can help in relieving wounds
Useful in cases of eye problems
Skin disorders can be relieved by using the herb
Constipation
Weakness
Paralysis
Intestinal worms
Tooth pain
Problems in menstruation
CARE FOR AILMENTS
The Ervatamia Coronaria is beneficial for relieving the following ailments:
Intestinal worms: The Ervatamia Coronaria is an anthelmintic that is known to kill worms in the intestine. The juice of the plant has this property and hence, it is used widely for this purpose.
Toothache: Tooth pain can bother people beyond imagination. Ervatamia Coronaria aids in relieving this unbearable problem. It is recommended to chew the roots of Ervatamia Coronaria for relieving this problem.
Eye disorders: Eye problems can be relieved by using this beneficial herb. A paste made from the plant mixed with lime juice or latex of Ervatamia Coronaria can be applied near the cornea of the eye to relieve opacity. The milk from the leaves mixed with charcoal of the plant can be applied to relieve inflammation of the eye or opthalmia. Flower of Ervatamia Coronaria mixed with coconut oil is also recommended for patients who suffer from soreness in eyes.
Skin disorders: The Ervatamia Coronaria is beneficial in relieving skin disorders such as irritation on skin or wounds. The herb is used as an anodyne that helps in relieving chronic pain. The latex of the Ervatamia Coronaria mixed with the juice of the plant can be put on wounds. This herb is also a remedy to prevent inflammation.
THE NORMALLY PRESCRIBED DOSAGE OF ERVATAMIA CORONARIA
It is advised to use about 20 grams of the leaves of the herb with around 5 grams of Tulsi or holy basil (Tulsi can be substituted with Bringhraj or Ecliplta Alba). This is decoction should be chewed thoroughly and swallowed. In case it is difficult to obtain fresh leaves one can use the flower petal of the Ervatamia Coronaria.
SAFETY AND PRECAUTIONARY TIPS FOR USING THIS HERB
The use of this herb is required to be done as per pre defined standards. Over dosage of the Ervatamia Coronaria can lead to problems such as nausea and vomiting. We advise to use this herb only after consulting a certified herbalist.
PLANET AYURVEDA PRODUCTS THAT USE THIS HERB
The use of the products from the house of Planet Ayurveda can work to relieve the above mentioned ailments.
It is always better to consult a registered medical practitioner before using any herbal supplements or Ayurvedic medicines. We at Planet Ayurveda follow safety regulations and high quality standards in manufacturing all over herbal products. We use only natural and vegetarian ingredients. We never test our products on animals. For a safe and healthy lifestyle, choose Planet Ayurveda herbal products.