ECLIPTA ALBA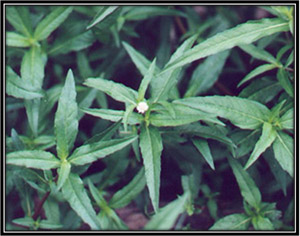 Eclipta Alba is commonly known as False Daisy, Trailing Eclipta. In Hindi it is known as Bhangra and Babri. The Sanskrit name is Bhringraja and Tekarajah. It is one of the ten auspicious flowers, mentioned in the Ayurveda which has been used since ages for hair and skin problems. It forms one of the ingredients used in black hair dye. In Java, the leaves of the plant are used as a food item.
In China and Brazil the plant is used as anti-venom for snake bites. It is a common weed which grows throughout India on waste grounds. It is also grown in Thailand, Brazil and China.
CHARACTERISTICS OF ECLIPTA ALBA
It is a prostrate, erect and multi branched plant which is an annual herb. Leaves have oppressed hairs on either side, around 10 cm long. It has composite flowers which are white in colour and have compressed rays.
PARTS OF THE PLANT USED
Roots, seeds, seed oil and whole plant are used for medicinal purposes.
THERAPEUTIC POWERS OF ECLIPTA ALBA
This medicine is used for relieving ringworm, alopecia, spleen and liver enlargement, jaundice and hepatitis and also as a general tonic. It is also effective in controlling cough, catarrah, indigestion, haemorrhage, vertigo, toothache and giddiness. It has antiseptic properties and works like a wound relieving agent. The root of the plant is used as a purgative and emetic and the paste of the leaves is effective to relieve scorpion sting. It has alexipharmic, anthelmintic and bitter properties.
NUTRIENT COMPOSITION
Eclipta Alba consists of coumestans like demethylwedelolactone, wedelolactone, polyacetylenes, polypeptides, steroids, thiophene derivatives, and flavonoids.
CARE FOR AILMENTS
This herb offers relieve for several ailments. Some of these are:
Dehydration: The juice of Eclipta Alba leaves when mixed with honey helps in overcoming dehydration caused by loose motion.
Alopecia: The entire plant is used to make a paste and applied on the scalp where hair is lost. It must be repeated for 100 days regularly for better results. The paste should be allowed to stay for one hour before washing off with normal water.
Jaundice: A mixture of Eclipta leaves, black pepper, and relieved can be made and consumed for relieving jaundice. It has to be consumed for 4-5 days.
Hearing ailments: Juice of Eclipta Alba leaves, amla juice, garlic juice along with other herbs like vasa, black pepper, cloves and cockscomb seeds is used to make medicinal ear drops.
Heel pain: The heel is massaged with the juice of Eclipta Alba regularly in order to relieve pain and cracked skin.
Toothache: The juice of the leaves can be applied on the gums for getting relief from toothache.
Headache: The juice of the plant when mixed with oil and massaged on the scalp relieves headache.
Elephantiasis: The juice of the Eclipta Plant can be mixed with sesame oil and massaged on swollen feet. It provides relief from swelling and pain.
OTHER USES
Antimicrobial effects: Extracts of Eclipta Alba is used for relieving infections. It fights against all micro organisms which cause boils, infections and inflammations.
Anticancer properties: Extraction of Eclipta Alba is useful in inhibiting the growth of cancer cells.
Insecticide: The extracts of Eclipta Alba are effective as an insecticide and provide an alternative to chemical pesticides. Pest control can be done in an eco-friendly way.
Eclipta Alba juice is used to make hair oil which is effective in controlling several problems related to hair like dandruff, hair falling and hair thinning etc.
The juice of the leaves is used to make kajal which is useful in relieving ailments related to eyes.
In Siddha medicine it is used to relieve several diseases. Popular liver tonic with the name Liv.52 contains this herb.
A black dye which is obtained from the plant is used for tattooing and hair dyeing.
SAFETY PRECAUTIONS AND SIDE EFFECTS IN USING ECLIPTA ALBA
There are no known side effects with the use of Eclipta Alba. But any herb or medicinal formulation should be used as per the given dosage. Over indulgence may lead to complications. It is better to consult a practitioner before consuming any herb or formulation.
PLANET AYURVEDA PRODUCTS THAT USE ECLIPTA ALBA
Planet Ayurveda recognizes the relieving properties of this herb and is using it in the following product:-
All our Planet Ayurveda products are manufactured with 100 percent natural and vegetarian ingredients, without any chemicals or preservatives. We rely on ancient Ayurvedic texts to prepare all the medicines. We do not encourage testing of our products on animals. All the medicines and herbal supplements undergo quality checks at various levels. Opt for Planet Ayurveda products and seek good health.