BOSWELLIA SERRATA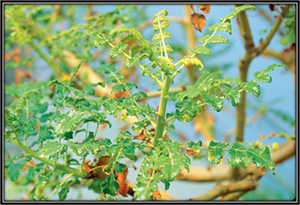 The plant Boswella Serrata is commonly referred to as Indian Olibanum Tree in English, Salai in Hindi and Sallaki in Sanskrit. Its most common Indian name is the Shallaki Guggal.
Historical Details
The plant Boswella Serrata has long been used for providing relief in cases of cancer and various other terminal diseases as well. It was used extensively in Ayurveda and traditional folk medicine as it is an Indian herb. It was used as a cosmetic plant and burning it as incense was believed to drive away evil spirits. It has always been associated with longevity and memory. There is a reference in the Bible that says that the gum from the plant Boswella Serrata was offered to Adam as a consolation after he lost the Garden of Eden.
Areas of Cultivation
The plant Boswella Serrata is native to India and grows wildly all over the regions lying in the Central India, the Deccan Plateau, South- East India, the northern region of the state of Gujarat and the Eastern states.
Parts Used
The parts of the tree Boswella Serrata that are used for medicinal purposes are its bark and its Oleo- gum resin.
CHARACTERISTICS OF BOSWELLIA SERRATA
The Boswella Serrata is a decisuous branching tree that can grow up to only 4cm. or 5 cm. in height and has leaves that are ovate, long, opposite, sessile, and obtuse with a margin and serrate base. The flowers are long and have cream- colored petals. The gum of the plant is extracted by making incisions in the bark and squeezing it out. It is used mainly as an antirheumatic, diaphoretic, etc.
MEDICINAL PROPERTIES USEFUL AGAINST DISEASES
The herb Boswellia Serrata has found many uses as a medicinal herb. It is used internally.
Its uses are given below in detail:
Internal Uses:
Rheumatism– It is basically used for relieving Rheumatism.
Arthritis– The most extensive usage of Boswella Serrata in the medicine industry is for the relieve of Athritis. Capsules made out of it can be consumed to do the same.
Cancer– Two capsules should be taken twice daily by people suffering from cancer.
Diabetes– It is also used as a relieve for Diabetes.
Alzheimer's Disease– It provides relief to patients of Alzheimer's disease.
USE OF BOSWELLIA SERRATA IN AROMATHERAPY
The uses of Boswella Serrata in the field of Aromatherapy have not yet been discovered.
PRECAUTIONS AND SAFETY MEASURES WHILE USING BOSWELLIA SERRATA
The herb Boswella Serrata and the herbal extracts derived from it are very safe to use and consume internally as well as externally. This does not mean that medical advice should not be taken before consuming it. This applies to all other herbs as well. Planet Ayurveda has the option for its customers to avail medical advice from its experts before consuming or purchasing any herbs or herbal extracts.
PRODUCTS OF PLANET AYURVEDA THAT MAKE USE OF BOSWELLIA SERRATA
The product at Planet Ayurveda that contains Boswella Serrata as one of its ingredients is:-
We at Planet Ayurveda offer the best management advice and prescribe herbs, supplements and Ayurvedic medicines made from 100 percent natural ingredients that are completely chemical and preservatives free. Our products are vegetarian and made from the best quality organic herbs. We are proud to proclaim that our products are never tested on animals. Opt for Planet Ayurveda herbal products and enjoy the health benefits in everyday living.