ACORUS CALAMUS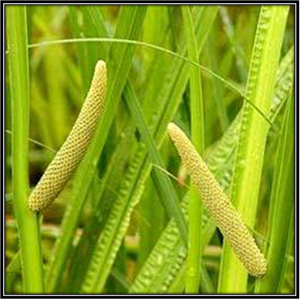 The Acorus Calamus is known as Bach in India. It is also called sweet flag in a few parts of the world. The herb is known as bitter pepper roots, calamus roots, gladdon, myrtle flag, beewort, pine root, sweet rush, sweet sedge and sweet cinnamon.
CHARACTERISTIC OF THE ACORUS CALAMUS
This plant is perennial and has long creeping rhizomes that are aromatic and have a tendency of sprouting leaves from the ground. The shoots of the herb are supported by a large sized leaf like structure that is called spathe.
The pale green colored flowers of the herb are five to 10 cms long and have cylindrical spikes. The plant also has yellowish fruits. The rhizomes of this plant are dried and added to calamus for use in medicines.
The leaves have been used for years in Ayurvedic medicinal science. It is a known to be a perfect substitute for ginger, cinnamon and nutmeg.
This plant is native to India and the Arab parts of the world. It can also be found in Europe, southern parts of Russia, Siberia, Indonesia, Japan, Sri Lanka, Australia and Canada.
THERAPEUTIC POWERS OF THE HERB
The herbs roots are of great medicinal value and its stock is an aromatic stimulant, bitter tasting tonic as well as an effective expectorant. It is known to relieve flatulence, relieve spasmodic disorders and stimulate vomiting sensation. It is known to help regulate menstrual disorders like delay in menstruation and pain during the menstrual cycle. The plant is also a proven diuretic, aphrodisiac and laxative. The herb is also a proven sedative. It has excellent anti microbial, antioxidant and insecticidal properties. It has been used for years in Ayurvedic medicinal science.
NUTRIENT COMPOSITION
The rhizomes of the plant contain aromatic oil that is yellow in color. This oil contains calamen, calameori, asarone and calamenos. Indian calmeon oil also contains asarone, little quantities of sesquiterpenes and sesquiterpine alcohols.
CARE FOR AILMENTS
The herb is known to relieve the following health problems:
Stomach Disorders: The herb provides relief to the stomach by relieving problems like flatulence, colic and increased appetite. The roots of the plant are burned and mixed with oil for application on the abdominal area for relieving problems of the stomach.
Diarrhea and Dysentery: This herb has been tested a number of times and has proven to be an effective medicine for relieving chronic diarrhea. The presence of tannin in the herb makes it effective for patients of dysentery.
Asthma: The herb is beneficial in relieving asthma and removing catarrhal matter as well as phlegm from the bronchial tubes.
Common cold: The Acorus Calamus rhizome can be roasted and powdered for use to relieve common cold. This powder is supposed to be consumed with a little honey.
Whooping cough: The powder of the roasted Calamus is a known home remedy for relieving the problem of whooping cough in children.
Intestinal worms: This herbs root expels worms from the intestine.
Mouth disorders: The herb is used to relieve mouth ulcers, coating on the tongue and inflammation of skin.
SAFETY AND PRECAUTIONARY TIPS FOR USING THIS HERB
The herb is advised for use only after consulting a certified herbalist; especially in case of pregnant women, lactating mothers, infants and elderly with chronic ailments.
PLANET AYURVEDA PRODUCTS THAT USE THIS HERB
Planet Ayurveda understands the therapeutic importance of this herb and uses it in the following products:
We at Planet Ayurveda offer the best management advice and prescribe herbs, supplements and Ayurvedic medicines made from 100 percent natural ingredients that are completely chemical and preservatives free. Our products are vegetarian and made from the best quality organic herbs. We are proud to proclaim that our products are never tested on animals. Opt for Planet Ayurveda herbal products and enjoy the health benefits in everyday living.