VACCINIUM MYRTILLUS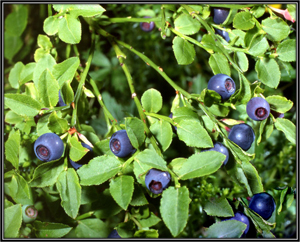 Botanical Classification
The herb Vaccinium Myrtillus belongs to the family N. O. Vacciniaceae. The plant is commonly known by various other names such as Whortle Berry, Bil Berry, Blue Berry, Huckle Berry, Whin Berry, Wine Berry, Bog Bil Berry, Black Whortles, Trackle Berry, etc.
The plant Vaccinium Myrtillus was discovered in Europe and its therapeutic values were found out there too.
Areas of Cultivation
The plant Vaccinium Myrtillus is native to Northern Europe and Central Europe and is grown in some parts of South- Eastern Europe as well. Its seeds are imported from South- Eastern Europe and then the plant is cultivated in India as well.
Parts Used
The parts of the plant Vaccinium Myrtillus that are used for their medicinal value are its leaves which are referred to as the Bil Berry Leaves and the fruits which are known as Bil Berry.
CHARACTERISTICS OF VACCINIUM MYRTILLUS
The Vaccinium Myrtillus is a perennial plant. The rootstock of the plant is in the form of a creeper and green, branched and angular stems grow from it. The plant can grow to a height of 1 foot or 1.5 feet. The flowers are reddish pink in color and grow individually. The fruits are in the form of berries that have five seeds each inside of them and are bluish black in color. Some of the seeds have a wrinkly texture and are reddish brown in color. The seeds have a slightly sweet and caustic taste.
MEDICINAL PROPERTIES USEFUL AGAINST DISEASES
The herb Vaccinium Myrtillus has found many uses as a medicinal herb. It can be used internally or as a preparation that can be applied externally. Its uses are given below in detail:
Internal Uses:
Reduced Blood Sugar– Blueberry tea leaf is very effective in reducing blood sugar levels.
Arthritis– The leaves can also be used for the management of Arthritis.
Digestive Disorders– it is used for the management of various digestive disorders.
Diabetes– The leaves of the plant are also useful for relieving Diabetes.
External Uses:
Wounds – It can be used as an astringent for relieving sores and wounds.
USE OF VACCINIUM MYRTILLUS IN AROMATHERAPY
The uses of the plant Vaccinium Myrtillus in Aromatherapy have not yet been discovered.
PRECAUTIONS AND SAFETY MEASURES WHILE USING VACCINIUM MYRTILLUS
The herb Vaccinium Myrtillus is extremely safe to use but it should still not be taken without taking the advice of a medical practitioner. This applies not only to Vaccinium Myrtillus but to all herbs and herbal extracts. Planet Ayurveda offers the option to its customer of availing medical advice from its experts before purchasing or consuming any herbs.
PRODUCTS OF PLANET AYURVEDA THAT MAKE USE OF VACCINIUM MYRTILLUS
Currently there are no Planet Ayurveda Products that use this herb as an ingredient in them; however the below mentioned Planet Ayurveda products are useful in some conditions for which Vaccinium Myrtillus is used:
Dosage – Planet Ayurveda offers Bilberry in the form of Capsules which can be taken in the dosage of two or 3 capsules daily. They can be bought in packages of 1 bottle, 2 bottles, 3 bottles, 5 bottles or 10 bottles.
We at Planet Ayurveda are committed to provide the best to our customers. Our products are purely vegetarian and made of organic ingredients only. We do not practice or endorse the use of the products on animals. These products manufactured by us do not contain any chemicals or preservatives. Buy Ayurvedic supplements from Planet Ayurveda for a healthier and better you.