TELLICHERRY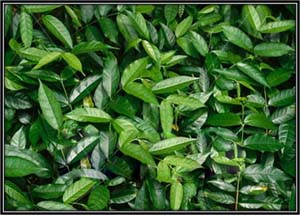 Holarrhena antidysentrica, commonly referred to as Tellicherry Bark and Conessi in English; Kurchi in Hindi and Kutaji in Sanskrit belongs to Apocyanaceae family. The main medicinal value of this herb lies in its botanical name- Holarrhena antidysentrica; that is relieve for Amoebic dysentery.
This plant with numerous relieving properties has also been mentioned in the Vedas for the same. This herb has been used to relieve several gastrointestinal diseases for hundreds of years and is still used by several Indian tribes to relieve ailments like epilepsy, anemia, skin infections and cholera, apart from digestive problems.
CHARACTERISTICS OF TELLICHERRY
This deciduous plant is generally found in tropical Asian countries. In India it is mostly found in the sub-Himalayan area. The Tellicherry plant grows up to be a shrub or small tree with an average height of 12-24ft. This highly branched tree has a slightly pale bark, short stalk green leaves and white aromatic flowers that turn yellow with age. The plants fruits are cylindrical and generally crop up in pairs and its seeds are light-brown.
The plant has a bitter/ astringent taste.
THERAPEUTIC POWERS OF TELLICHERRY
The plants bark, root and seeds of the Conessi are used for medicinal purposes.
The bark of Holarrhena antidysentrica has the following therapeutic properties:
Anthelmintic
Astringent
Antidysenteric
Stomachic
Febrifugal
Tonic
Digestive
Amoebicidal- It is very useful in relieving amoeba infections
The bark of Tellicherry is considered the best medication for chronic diarrhea. In addition this herb is often prescribed to relieve ailments like piles, chronic dysentery, intestinal worms, colitis, skin diseases, malabsorption, oestioarthritis and rheumatoid arthritis.
NUTRIENT COMPOSITION
Kurchi is composed of over 30 alkaloids including conessine, conamine, conkurchine, connessimine, kurchine, conarrhinine, holarrhinene and isoconcessimine. Conessine is its primary alkaloid.
CARE FOR AILMENTS
Tellicherry offers relieve to several diseases, ailments and discomforts. Some of these are:
Amoebic dysentery: Kurchi is very effective in removing the amoeba from the body, which if not relieved in time can lead to severe conditions like that of Liver abscess.
Ulcers: Extracts from the stem, bark and seeds of this herb contain certain salts and calcium that help relieve mouth ulcers.
Appetite loss: Regular use of this herb helps relieve appetite loss.
Tissue relieving: The tonic properties of Kurchi help remove muscle weakness from the body and are also very useful in toning the vaginal tissues in women, post delivery.
Wounds: The bark and seeds of this plant are very useful in relieving wounds.
Bleeding Disorders: The Tellicherry bark is often recommended to relieve bleeding disorders such as menorrhagia and haemorrhoids.
Digestive Disorders: Both the bark and fruits of this plant are very useful in relieving digestive disorders like constipation, dysentery, diarrhea, stomach aches, gas etc.
Intestinal worms: Conessi, since ancient times, has been used to get rid of intestinal worms.
SAFETY AND PRECAUTIONARY TIPS WHILE USING TELLICHERRY
While Conessi, if taken in recommended doses is not generally known to have any side effects; yet in some extremely rare cases people may experience side effects like sleeplessness, constipation, vertigo and agitation. If taken in very high doses it may also cause anxiety.
It is best to avoid using this herb for children, pregnant and nursing women and in patients suffering from liver and kidney disease. People already on some other medications, should only take this herb if advised by their doctor.
Before using any herbs it is advisable to consult a medical practitioner.
PLANET AYURVEDA PRODUCTS THAT USE THIS HERB
Planet Ayurveda supplement that contains the Tellicherry Bark as one of its ingredient, is Kutazghan Vati.
Planet Ayurveda is one of the largest suppliers of a wide range of Ayurvedic products across the globe. All our products are manufactured in accordance with the highest pharmaceutical standards and by using only the best quality raw material available. Our herbal products are 100 percent pure; they are free from chemicals and artificial flavoring and come with a certification of authenticity.