SYMPHYTUM OFFICINALE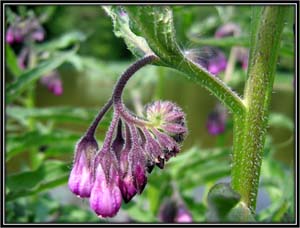 Symphytum Officinale is a perennial plant that belongs to the family of Boraginaceae. It is commonly also known as comfrey, Russian Comfrey, boneset, consound, slippery root and knitbone. This plant is native to Europe and parts of North America. This herb is usually used in the form of a paste, ointment, decoction, poultice or tincture. Comfrey was used in Japan as a vegetable and in America as an additive to herbal medicine. It has been in the knowledge and is researched for over 2000 years.
CHARACTERISTICS OF SYMPHYTUM OFFICINALE
This plant is not very tall and grows up to 3 feet. It has been used in folk medicine for relieving wounds as well as burns. This is a distinctive herb that is considered by renowned herbalists to be of great importance.
This herb grows in rich moist meadows near riverbanks or ponds. The root of the Comfrey is branched and large in size. It is black in color on the outside and creamy white on the inside. The hollow stem as well as the root of the herb contains mucilage.
The thick veined leaves of the plant are covered with hair. The leaves are light green on the inside and dark green in color on the outside. The herb has bell shaped flowers that grow in to becoming the upper leaves on the stalk. They are usually violet in color and hang from the plant in clusters.
THERAPEUTIC USE OF THE SYMPHYTUM OFFICINALE
The leaves of the Symphytum Officinale are used extensively for relieving skin problems. It helps in speeding the process of relieving wounds and other such skin conditions. The leaf is also an extremely known remedy for relieving bedsores, stings, and inflammation due to insect bites, gout, ulcers, psoriasis, eczema, boil, sunburn, scabies and acne. It can also help in relieving piles, hemorrhoids, bleeding nose, phlebitis and varicose veins.
Comfrey or Symphytum Officinale is also used to relieve ulcers and irritable bowel syndrome or IBS. A tea made of Comfrey can work as a blood purifier and also relieve the problem of bronchitis, chest congestion and pleurisy.
According to studies, Comfrey root extracts can be used as an ointment to relieve the problem of osteoarthritis. It reduces pain and improves the mobility of the knee. This medicinal plant is also said to have anti inflammatory, tissue regenerating and analgesic properties. It can help in relieving bruises, sprains and muscle related problems.
NUTRIENT COMPOSITION
The relieving action of the plant is majorly because of the presence of an agent called allantoin that is responsible for promoting cell proliferation. The leaves are also rich in tannin and the roots in alkaloid.
CARE FOR AILMENTS
The Symphytum Officinale is known to relieve health issues like:
Eczema
Burn
Wound
Cough
Ulcer
Swelling
Tumor
Muscular Pain
This herb has long been used for relieving lung trouble and the problem of whooping cough. A strong mixture made from this herb is recommended for use to relieve internal hemorrhage in the lungs or the stomach. Comfrey root is extremely useful in relieving chronic conditions of burn, ulcer and wound.
SAFETY AND PRECAUTION TIPS FOR USING THE HERB
The excessive consumption of large doses of comfrey can cause damage to the liver. If it is used without proper consultation and under the lack of adequate guidance it can even cause liver cancer. Though the external application of the herb is considered safe it is important to note that the fast relieving action of the herb can relieve the wound only internally and later causing an abscess situation.
Pregnant women should consume this herb internally. It is also advised that young children, nursing mothers or people suffering from kidney or liver disease should avoid the intake of this herb.
PLANET AYURVEDA PRODUCTS THAT USE THIS HERB
Currently there are no Planet Ayurveda Products that use this herb as an ingredient in them; however the below mentioned Planet Ayurveda products are useful in some conditions for which Symphytum Officinale is used:
We at Planet Ayurveda are working tirelessly to provide the best possible products to all our clients. We recommend are products only after carefully considering each aspect of the health of the customer. The ingredients we use in our products are organic in nature and do not contain any preservatives making them completely chemical free. We do not practice or endorse the testing of any medicine or product on any animal. We abide by the high quality checks set by the organization at all times. We are proud to say that our medicines and their positive effects on its users have made us one of the leading herbal medicine manufacturers of the country.