Description
Planet Ayurveda Varuna Powder has been prepared with the use of Varuna herbs. Crataeva nurvala is the Latin name of this herb. It is commonly called – Three leaved caper. This herb is found throughout India. It is an important herb in Ayurveda specially to treat the renal conditions like renal stones, UTI (Urinary Tract Infections) etc. It possesses the anti-inflammatory, antioxidant, contraceptive, diuretic, antimicrobial properties.
This herb is great source of various phytochemical compounds like tannins, saponins, flavonoids, triterpenes, plant sterols and glucosilinates.
THERAPEUTIC USES OF VARUNA POWDER
It acts as a wonderful diuretic and good to treat dysuria (painful urination), urinary calculi, and cystitis.
It is good for anorexia and helps to stimulate the appetite.
Antimicrobial action of this herb helps to eliminate the harmful bacteria in urinary tract infection (UTI).
It is used to treat the fever.
Anthelmintic and anti-amoebic action of this herb helps to expel out worms in both intestinal and hepatic infestations.
It acts as cholegogue that promotes the discharge of bile from the system.
INGREDIENTS OF VARUNA POWDER
| | | | |
| --- | --- | --- | --- |
| S. No. | Herb Used | Latin Name | Quantity |
| 1. | Varun | Crataeva Nurvala | 100 gm |
BENEFITS OF VARUNA POWDER
Renal stones – This herb acts in an amazing way to resolve the problem of renal stones. It helps to restrict glycolate oxidase enzyme that cuts the extra production of oxalate. As this Oxalate is responsible for the formation of calculi.
Painful urination- Diuretic action of this is quite good to provide relief in the dysuria (painful urination). It helps to maintain the proper urine flow, relieve the burning and painful sensation during urination.
Kidney health – It is quite good to remove the accumulated toxins like urea and creatinine from body. It is good herb to manage the kidney diseases.
Liver disorders – This herb supports the good liver health. It helps to remove the waste materials from liver and thus maintains the healthy liver functions.
Anorexia – This herb helps to improve the digestive fire in body and improves the digestion process. It also helps to boost up the metabolism of body.
UTI (Urinary Tract Infections) – Antimicrobial and diuretic action of this herb helps to eliminate the harmful microorganisms from body. It also helps to provide the relief in symptoms like smell in urine, urge to urinate, pain while urinating.
Anti-inflammatory action – Being packed with anti-inflammatory properties, It helps to reduce inflammation in rheumatoid arthritis.
CLASSICAL REFERENCE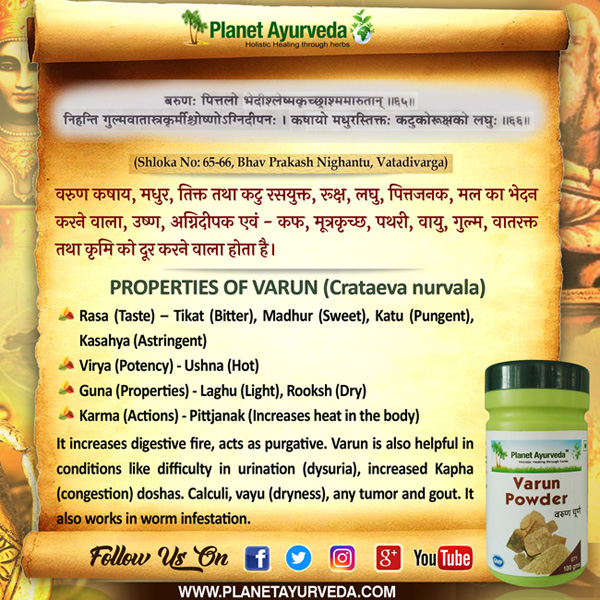 DOSAGE
1/2 to 1 teaspoonful twice daily with plain water after the meals.
PRODUCT INFO
Package Type: Herbal Powder.
Package Quantity: 100 gm Bottle.
This product is free from chemicals, preservatives, yeast, pesticides, microbes, heavy metals, fillers, starch, raw powders etc.
SIDE EFFECTS
There are no known side effects with the usage of this medicine. But care should be taken to consume this herbal medicine in the prescribed dosage.
ADVANTAGES OF USING VARUNA POWDER BY PLANET AYURVEDA
Planet Ayurveda has manufactured this unique herbal formulation as per industry standards and there are several reasons which make it superior to any other similar products available in the market. They are:
Only pure herbal powders and no other chemicals or preservatives are used in the preparation of this herbal formulation.
For ensuring better results, only pure herbs are used.
Planet Ayurveda offers only quality product at reasonable and competitive prices.
Testing of the medicine is not done on animals.
Place your order now and enjoy the benefits of Planet Ayurveda's VARUNA POWDER. Opt for other Planet Ayurveda products as well for a healthy lifestyle. Choose from our wide range of Ayurvedic supplements, capsules, herb powders, and oils and order conveniently through our website.