Description
SHIRISHA POWDER: EFFECTIVE POWDER FOR TREATING STINGS AND BITES OF POISONOUS ANIMALS
According to Ayurveda Shirisha Powder is used from ancient time to prepare various medicines. This plant has medicinal action. This powder act as an astringent. This powder treat bites and strings from poisonous animals, insect bites, snake bite etc.
THERAPEUTIC USES OF SHIRISHA POWDER
The ingredient used in the preparation of the medicine act in synergetic way and relieve the ailment from body.
This medicine is useful in bites and stings from venomous animals.
This medicine is used to relief swelling and infection.
This medicine helps in blood purification and skin problems as it removes toxins from the body.
This medicine is used in ear pain and coughing problem.
This powder is also beneficial in diarrhea, dysentery and piles conditions.
Ascites, infection in liver are also treated by this powder.
 This powder is also beneficial in psychiatric illness, epilepsy conditions.
In painful urination and body weakness this powder is useful.
This powder has anti-histaminic, anti-tubercular, anti-protozoal, anti- microbial, anti- fungal properties in it.
This powder cures allergies, neutralizes poisons and toxins from body.
This powder provides nutrition to the body.
INGREDIENTS OF SHIRISHA POWDER
| | | | |
| --- | --- | --- | --- |
| S. No. | Herb Used | Latin Name | Quantity |
| 1. | Shirisha | Albizia lebbeck | 100 gm |
BENEFITS OF USED INGREDIENTS IN SHIRISHA POWDER
This is a most traditional herb which is used for medicinal purpose. This contains protein, phosphorous, iron, calcium, niacin, vitamin C, ascorbic acid, saponins etc in it. This herb has anti-inflammatory properties in it. This herb balances all the three dosha in body. This herb brings quick healing of wound. This herb is good for skin as relieves inflammation. This herb is most important anti-poisoning property. This herb has analgesic property in it. This herb is used to cleanse and detoxify brain and sense organs. This herb contain active constituents of albizia are tannins, saponons which contains albitocin, amyrin, b-sitosterol etc in it having medicinal properties.
BENEFITS OF SHIRISHA POWDER
This unique powder is safe for use and is used in various conditions:
This powder act as an astringent.
Neutralizes the effect of poison.
CLASSICAL REFERENCE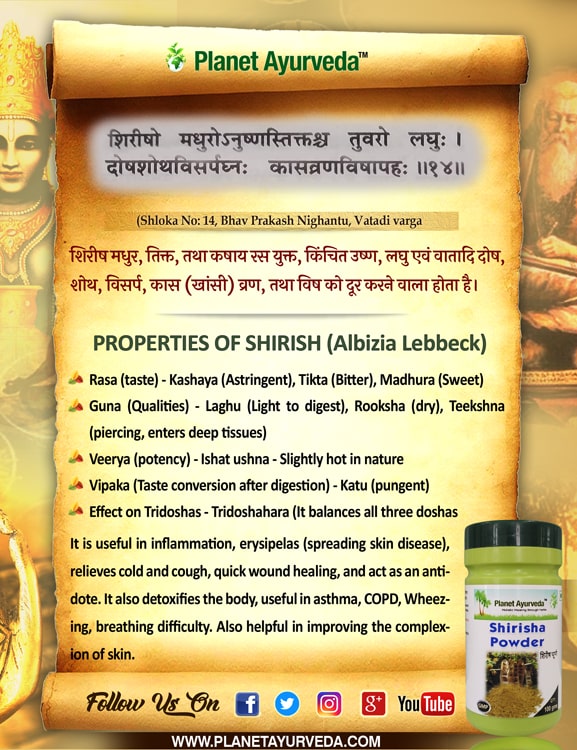 WHO SHOULD USE SHIRISHA POWDER?
The person who are suffering from insect bite, asthma attacks, bronchitis, allergies, skin infections, worm infestations, cough, chronic cold, flu, diarrhea, dysentery, boils, urinary infections, hypocholesterolemic, rheumatoid, piles, ascites, ear pain, infection due to external injury etc. should use this powder. This powder is beneficial for use and gives best result to the patients.
DOSAGE
Half to one teaspoonful of this powder should be consumed along with plain water after meals, two times in a day.
PRODUCT INFO
Package Type: Herbal Powder.
Package Quantity: 100 gm Bottle.
Product Packs Available: This product is available in sets of 2 bottles, 3 bottles, 5 bottles and 10 bottles.
This product is free from chemicals, preservatives, yeast, pesticides, microbes, heavy metals, fillers, starch, raw powders etc.
SIDE EFFECTS
There are no known side effects with the usage of this medicine. But care should be taken to consume this herbal medicine in the prescribed dosage.
ADVANTAGES OF USING SHIRISHA POWDER BY PLANET AYURVEDA
Planet Ayurveda has manufactured this unique herbal formulation as per industry standards and there are several reasons which make it superior to any other similar products available in the market. They are:
Only pure herbal powders and no other chemicals or preservatives are used in the preparation of this herbal formulation.
For ensuring better results, only pure herbs are used.
Planet Ayurveda offers only quality product at reasonable and competitive prices.
Testing of the medicine is not done on animals.