Description
PUSHKARMOOL POWDER: IS AN EFFECTIVE MEDICINE FOR RESPIRATORY DISORDERS
Pushkarmool Powder is used for all kinds of respiratory problems. According to Ayurveda, this powder is used in COPD, Asthma, chronic cough, cold, rhinitis, emphysema, sinusitis, lung collapse etc. respiratory problems. This medicated formulation has anti allergic property in it.
According to Ayurveda this medicated powder balances kapha dosha in body due to its pungent and bitter taste and vata dosha is also balanced due to its hot potency. This herbal formulation is very effective in nature as it cures the disease from its root cause.
THERAPEUTIC USES OF PUSHKARMOOL POWDER
The ingredients used in the preparation of this herbal formulation act in a synergetic way and relieve the ailment.
This herbal medicine is used in COPD, asthma, cough and cold conditions.
This powder is used in fever, anorexia.
This herbal powder is used in anemia.
It help to reduce cholesterol and fat.
This powder gives relief in hiccups.
This powder has anti-inflammatory, histaminic, aphrodisiac, anti-viral, anti-bacterial properties in it.
This powder is beneficial in ischemic heart diseases.
This herbal powder acts like a beta blocker which is useful in high blood pressure conditions.
This herbal powder supports circulatory and nervous system.
INGREDIENTS USED IN THE PREPARATION OF PUSHKARMOOL POWDER
| | | | |
| --- | --- | --- | --- |
| S. No. | Herb Used | Latin Name | Quantity |
| 1. | Pushkarmool | Inula racemosa | 100 gm |
Pushkarmool (Inula racemosa): Puskarmool is a medicinal plant that is used for the preparation of Ayurvedic medicine. This herb has healing properties in it. This herb possesses expectorant, emmenagouge, hypoglycemic, thermogenic properties in it which are useful in respiratory conditions. This herb maintains a healthy cholesterol level. This herb acts as a rejuvenating tonic for the lungs. The presence of Alantolactone component in it increases insulin sensitivity due to which body releases less insulin and hence help in losing weight.
This herb is anti-allergic in nature which helps in lowering the stress hormone. This herb is anti-bacterial in nature which treats bacterial infections. This herb stimulates the brain and nervous system. This herb contains chemical constituents like alantolactone, B-Sitosterol, D-Mannitol, Dihydroinunolide, Isoalantolactone, Inunolide-Germacranolide, Alantodiene in it which is beneficial for many disorders.
WHO SHOULD USE PUSHKARMOOL POWDER?
The persons who are suffering from respiratory problems like asthma, chronic cough, cold, hiccups, flank pain, sinusitis, rhinitis, emphysema, COPD, lung collapse), anorexia, fever, liver disorders, anemia, bloating, ischemic heart diseases, high blood pressure, wound , inflammation, stress and neuro-psychiatric etc. conditions should use this powder in a proper dose for best results. This powder is safe for usage.
CLASSICAL REFERENCE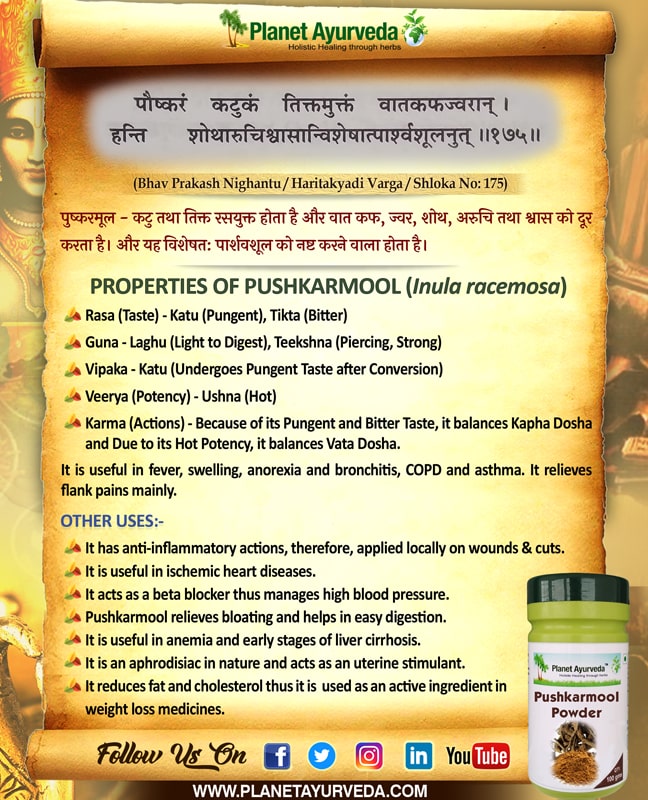 DOSAGE
Half to one teaspoonful of this powder should be consumed along with plain water after meals, two times a day.
PRODUCT INFO
Package Type: Herbal Powder.
Package Quantity: 100 gm Bottle.
Product Packs Available: This product is available in sets of 2 bottles, 3 bottles, 5 bottles and 10 bottles.
This product is free from chemicals, preservatives, yeast, pesticides, microbes, heavy metals, fillers, starch, raw powders etc.
SIDE EFFECTS
There are no known side effects with the usage of this medicine. But care should be taken to consume this herbal medicine in the prescribed dosage.
ADVANTAGES OF USING PUSHKARMOOL POWDER BY PLANET AYURVEDA
Planet Ayurveda has manufactured this unique herbal formulation as per industry standards and there are several reasons which make it superior to any other similar products available in the market. They are:
Only pure herbal powders and no other chemicals or preservatives are used in the preparation of this herbal formulation.
For ensuring better results, only pure herbs are used.
Planet Ayurveda offers only quality product at reasonable and competitive prices.
Testing of the medicine is not done on animals.