Description
Punarnava is seen in India and Brazil. Its botanical name is Boerhavia diffusa and commonly known as Spreading Hogweed. The plant is a perennial creeper which can grow to a height of 4 m. The flowers are pink and small. The fruits are round and contain seeds which resemble cow's beans.
This whole plant is useful for medicinal purposes. Each part of the plant has varied therapeutic values and is prepared in a different way. It is used for relieving liver ailments like hepatitis and jaundice. In tropical countries it is used as a natural remedy for expelling Guinea worms. In Ayurveda, the plant has been used to relieve fluid retention problems like edema.
The root of the Punarnava plant acts as a longevity enhancer. It is effective in relieving kidney problems, especially when the cells in kidney get damaged by long term diabetes. It also balances two energy elements in the body, Vata and Kapha.
Punarnava improves the quality of the body tissues which include reproductive fluids (Shukra dhatu), bone marrow and nerves (Majja dhatu), fat (Meda dhatu), muscle (Mamsa dhatu), Blood (Rakta dhatu) and nutrient plasma (Rasa dhatu).
It is useful in relieving inflammations, asthma, leucorrhoea and biliousness.
The leaves of the plant are useful in relieving joint pains.
The seeds are used in scabies and lumbago. They act as blood purifiers and diuretic in nature. Punarnava is used as a natural diuretic, which clears the edema without causing electrolyte imbalance or weakness. It is nature's best alternative to modern diuretics. It is very useful in edema, ascites, and water retention due to any reason, congestive heart failure, kidney failure, liver failure, blood pressure and skin ailments.
Therapeutic Properties of Punarnava Capsules
According to Ayurveda, Punarnava has diuretic properties and increases the renal blood flow. It has astringent, bitter, anti-inflammatory and carminative properties.
Punarnava capsules work as an excellent kidney and heart tonic.
This medicine is useful in maintaining the health of the skin.
Punarnava capsules are useful in relieving edema, a condition which various body parts get swollen.
These capsules can clear excess Kapha from the stomach and chest.
They act as a rejuvenator and can be used in relieving impaired urinary condition.
These capsules can work in conditions like urinary bladder infections and systemic edema.
They are very useful in the reduction of excess body fluids, congestion and edema due to excess Kapha.
Punarnava is useful in congestive heart failure, swelling because of arthritis and ascites.
These capsules enhance the digestive fire and help in absorbing fluids in the digestive system.
They act in the prevention of pain and intestinal spasms.
Punarnava capsules are recommended in relieving diabetes.
They are useful in relieving swollen joints because of fluid retention caused because of imbalance in Kapha.
This herbal medicine is useful in eliminating toxins accumulated in the joints through kidneys and urine.
It is effective in the management of arthritis and gout.
It is helpful in the breakdown of the 'fibrin', a blood clotting protein.
Punarnava is very effective in relieving infections of urinary tract.
Ingredients Used in Punarnava Capsules
| | | | |
| --- | --- | --- | --- |
| S. No. | Ingredient- International Name | Common Name | Quantity |
| 1 | Boerhavia diffusa | Punarnava | 500mg/capsules |
Who Can Use Punarnava Capsules
People suffering from kidney related problems, diabetic patients, persons suffering from arthritis and gout can use this herbal medicine. This herbal formulation is prepared as per ancient Ayurvedic treatises and modern GMP standards in an ISO 9001:2008 factories.
Specific Diseases That Punarnava Capsules are Useful For
This herbal marvel by Planet Ayurveda can be used by a number of people who suffer from various kinds of ailments. Some of these are as follows:
Edema: As Punarnava has diuretic properties it can relieve edema and renal stones.
Heart diseases: These tablets can be used to relieve congestive heart diseases.
Other ailments: Spleen enlargement, anemia, liver failure, ascites and kidney failure can be relieved with Punarnava capsules.
Classic Reference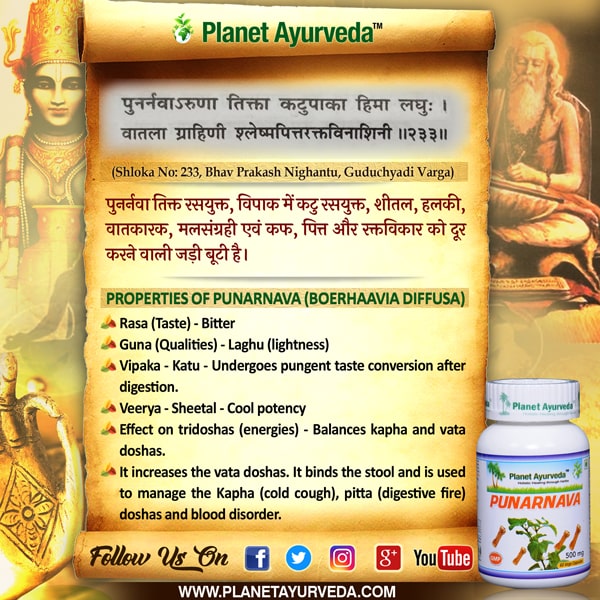 Dosage of Punarnava Capsules
One or two capsules should be consumed along with plain water, two times in a day before meals. Patients are advised not to exceed the prescribed dosage.
Product Info
Product Type: Herbal capsule.
Package Quantity: 60 capsule per bottle.
Product Packs Available: This product is available in sets of 2 bottles, 3 bottles, 5 bottles and 10 bottles.
These are free from chemicals, preservatives, yeast, pesticides, microbes, heavy metals, fillers, starch, raw powders etc.
Side Effects of Punarnava Capsules
There are no side effects reported so far.
However, it is advisable to consult our doctors or any other registered Ayurvedic practitioner for proper guidance before taking any herbal supplements.
Advantages of Using Punarnava Capsules by Planet Ayurveda
Planet Ayurveda's Punarnava Capsules offer many health benefits. In addition, there are several other factors that contribute towards making it better than many other similar products available in the market today. These are:
We use only 100% standardized extracts of the medicine and not raw herbal powder in the manufacture of the capsules.
We use pure plant cellulose based vegetarian ingredients and not hard gelatin for preparing the capsules.
We do not use chemicals, starch, synthetic drugs, flavouring agents, coloring agents, masking agents and stabilizing agents for making the capsules.
We use 100% organic herbs and herbal extracts which are sourced from natural locations and organic cultivators.
Our herbs and herbal formulations are free of pesticides, microbes and heavy metals. All of them are tested and certified by reputed labs.
We export our products worldwide and are US-FDA registered, GMP certified and ISO 9001-2008 certified company.
We never allow our products to be tested on animals.
All our products are competitively priced and one of the best in the industry.
If you wish to enjoy the benefits of Planet Ayurveda's Punarnava Capsules, you can order them easily from our website. Choose from our wide range of Ayurvedic supplements, capsules, herb powders, and oils and order conveniently from the comfort of your homes.