Description
Amalaki Rasayan Capsules – World's Richest Source of Natural Vitamin C
Amla or Indian Gooseberry is nature's richest source of vitamin C. its botanical name is Emblic myrobalan. Amla capsules are known as Amalaki Rasayan Capsules. They are the best sources of vitamin C. Amalaki Rasayan capsules are made up of standardized Indian gooseberry extract.
These capsules are better in comparison to other vitamin C supplements because they are completely natural and safe. Vitamin C in the natural form works as the best anti-ageing substance.
Amla has rich anti-oxidant properties and aid in combating free radicals. It is one of the most powerful rejuvenating herbs used by mankind since ages. When Amla is consumed regularly as a supplement, it eliminates the toxic effects of longtime exposure to heavy metals in the atmosphere like aluminum, nickel and lead. These metals are abundantly seen in industrialized countries.
Vitamin C is a crucial ingredient for maintaining the health of the individuals. It is needed for combating against the free radicals formed in the body during various chemical reactions. Vitamin C is also essential for the formation of dentin in the teeth and assists the body in the absorption of iron.
Amla is one of the ingredients in triphala, a combination of three unique herbs, the two other being vibhitaki and haritaki. Triphala is effective in imparting strength and youthful vigour to the body. Amla is also one of the important ingredients in the herbal formulation Chyavanapras.
Chinese researchers found out that amla is a powerful source of therapeutic chemicals which include quercetin (which is usually found in apples), ellagic acids (seen in green tea) and gallic acids. These chemicals are powerful antioxidants which help in protecting the body from the attack of free radicals.
Therapeutic Properties of Amalaki Rasayan Capsules
Amla has cooling, acrid, diuretic, antipyretic, tonic, alexeteric, aphrodisiac, alterant and trichogeneous properties. It is an expectorant, antiviralm anti-emetic, anti-oxidative and caridotonic properties. A fermented liquid made from the amla fruit is useful in relieving dyspepsia, jaundice and cough.
Amla or Indian Gooseberry is effective in reducing excess fat from the body as it enhance the total protein levels. It has the ability to rightly balance nitrogen and helps in reducing free fatty acids.
Amalaki Rasayan capsules have cholesterol reducing properties. Atherosclerosis, a condition wherein arteries get obstructed can also be relieved with amla.
It is a natural product to fight against obesity.
It helps in preventing atheroma, a condition in which the artery walls degenerate because of scar and fat tissue.
Amalaki Rasayan Capsules are effective in the inhibition of HIV virus which leads to AIDS disease.
It has antioxidant properties and helps to eliminate toxins from the body.
It helps in regulating blood sugar levels and inhibits lipid peroxidation in the cell membranes.
As it is rich in anti-inflammatory properties, ailments like gastritis, colitis and hemorrhoids can be relieved.
Amalaki Rasayan Capsules are known to improve nearsightedness. It is very useful in improving eye sight. It also helps to combat inflammations related to eyes.
These capsules strengthen teeth and keep the mouth clean.
It revitalizes the system and protects heart and nervous system.
Ingredients Used in Amalaki Rasayan Capsules:
| | | | |
| --- | --- | --- | --- |
| S. No. | Herb Used | Latin Name | Quantity |
| 1 | Indian Gooseberry | Emblica officinalis | 500mg |
Who Can Use The Amalaki Rasayan Capsules
People with chronic diseases like diabetes, heart problems, hypertension and high cholesterol can use this medicine. It can be also used for up keeping the overall health condition of any individual.
Specific Diseases That Amalaki Rasayan is Useful For
Amalaki Rasayan Capsules are useful in relieving skin problems and acne.
They are effective in the management of peptic ulcers and acidity.
These capsules are rich in Vitamin C, iron, calcium, essential amino acids and other antioxidants and minerals.
Regular usage of these capsules improves the immunity capacity, fights cancers and rejuvenates the body.
Chronic diseases like hypertension, diabetes, high cholesterol, influenza, AIDS, chronic cold and cough, chronic fatigue, and inflammatory conditions.
As per Ayurveda, Indian Gooseberry is the best herb for relieving bleeding disorders, diabetes and stamina and strength promoter.
Classical Reference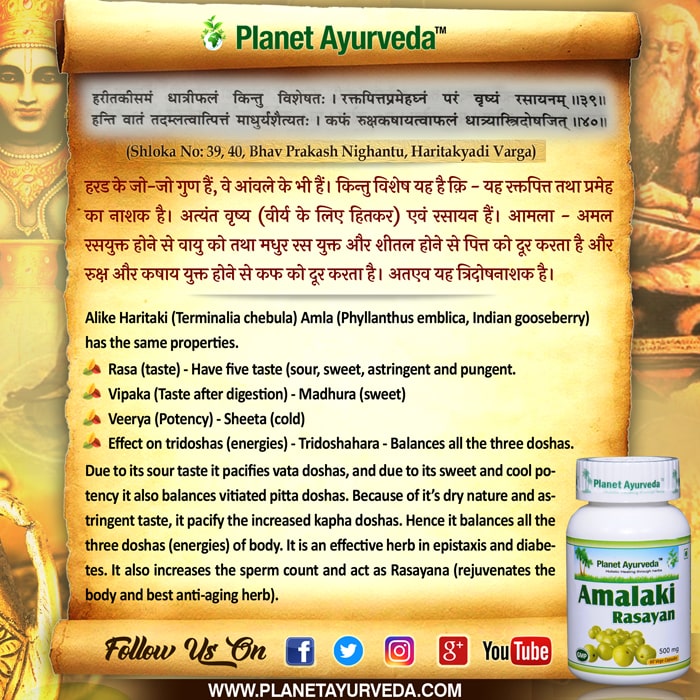 Dosage of Amalaki Rasayan Capsules
The normal dosage of these capsules requires two capsules, to be taken twice a day with plain water for best results. However, it is advisable to consult our doctors or any other registered Ayurvedic practitioner for proper guidance before taking any herbal supplements.
Product Info
Product Form: This product comes in capsule form
Package Type: Bottled pack
Package Quantity: Every bottle contains 60 capsules
Side Effects of Amalaki Rasayan Capsules
There are no known side effects if these capsules are used in the prescribed dosage.
Advantages of Using Amalaki Rasayan Capsules By Planet Ayurveda
Planet Ayurveda's Amalaki Rasayan offers many health benefits. In addition, there are several other factors that contribute towards making it better than many other similar products available in the market today. These are:
It is a 100 percent vegetarian capsule that is made of plant cellulose and contains no chemicals or hard gelatin.
The product uses only standardized extracts.
Use of only high quality organic products is done to ensure better health results.
It is a high quality product, available at competitive prices.
This product does not contain added colors, artificial flavors, fillers, yeast or preservatives.
We do not test our products on animals.
Opt for Planet Ayurveda products for a healthy lifestyle. Choose from our wide range of Ayurvedic supplements, capsules, herb powders, and oils and order conveniently through our website.