ORIGANUM MAJORANA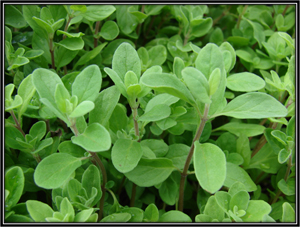 Origanum Majorana is known as Marwa in India. The sweet marjoram is pleasant smelling herb which belongs to the mint family and grows up to the height of 30 to 60 cm. This perennial herb has small leaves with hair on either side. The green tree has white flowers and has branched heads which from a distance look like knots. The well dried leaves of the herb used in medicinal products. It has fragrant, sharp, bitter, camphor like and spicy flavored herb.
Distilled leaves of the flowers yield a volatile oil which is known as the oil of sweet marjoram. The oil is either pale yellow, colorless to yellow green in color with a peculiar odor which is similar to that of nutmeg and mint.
CHARACTERISTICS OF ORIGANUM MAJORANA
The woody perennial Majoram has small velvety oval shaped leaves with has pinkish flowers that blossom in summer. This herb is a vital ingredient in Italian cooking. It is majorly cultivated in Spain, North Africa, Hungary and Portugal.
The parts that are used to make medicines are the stems, flowers and the leaves. The aerial parts are usually collected between the month of July and September. The stems and leaves are used to make infusions, tinctures and powders.
USAGE OF THE HERB
Flatulence, nausea, abdominal bloating and minor neural problems can be relieved by consuming an infusion made from this herb. The tincture of the herb is also advised for relieving such problems.
THERAPEUTIC POWERS OF ORIGANUM MAJORANA
The Majoram is used as a tonic and an effective stimulant. The flowers and seeds are also used to control excessive secretion as well as bleeding.
The Origanum Marjoram is known to be useful for relieving digestive problems like nausea, bloating, loss of appetite, intestinal spasm, diarrhea and flatulence. It is known to be a very efficient sedative. This makes it a relieve for relieving indigestion caused due to neural issues, palpitation and insomnia. This herb is used as a calmative as well. It also stimulates lactation and perspiration. This diuretic herb helps in flushing toxins from the body.
AYURVEDIC PROPERTIES
The essential oil extracted from the plant is used to tooth ache, soothe joints and muscular pain.
CARE FOR AILMENTS
The Origanum Majorana is used to relieve the following health problems:
Common Cold: The herb has an inherent warmth hat helps in relieving bad colds. Tea made from the Origanum Majorana has the ability to activate the sweat glands in the body. It helps to dry the skin during influenza and moistening the taut if it is taken in regulated quantities.
Asthma: The herb is used to expel and loosen difficult cough. It regulates the thickness of the mucous membranes in the nose and bronchial passage.
Women problems: This herb is used to promote and regulating the menstrual cycle in women if it is consumed in the form of an infusion. It is also used to improve lactation in nursing mothers.
Digestive disorders: The herb is used to relieve digestive problems and expel gas from the stomach. Hot fermentation given to a person suffering from colic is an effective remedy. The oil also helps in cases of chronic diarrhea.
Skin disorders: The oil of the herb is used to relieve skin problems and is applied on sprains, stiff paralytic limbs and bruises. It is also used to relieve problems of tooth pain.
NUTRIENT COMPOSITION
The Origanum Majorana contains tannins, manganese, zinc and Flavonoids. It has essential oils which are rich in thymol, sabinene, terpenes, linalool, and cavacrol.
SAFETY AND PRECAUTIONARY TIPS FOR USING THIS HERB
The oil of the herb is advised to be used only after consultation with a certified herbalist. This oil must not be used by lactating and pregnant women.
PLANET AYURVEDA PRODUCTS THAT USE THIS HERB
Currently there are no Planet Ayurveda Products that use this herb as an ingredient in them; however, the below mentioned Planet Ayurveda products are useful in some conditions for which Origanum Majorana is used:
We at Planet Ayurveda are working continually to provide the best medicinal recommendations to our clients across the globe. We have a team of dedicated herbalists who are researching on natural herbs, their extracts and its reliever properties. We only use organically grown ingredients and do not believe in contaminating them with chemicals or preservatives. We neither practice nor endorse the idea of testing products on animals. We recommend that are vegetarian products are consumed only after a proper consultation session with a certified herbalist.