MANGIFERA INDICA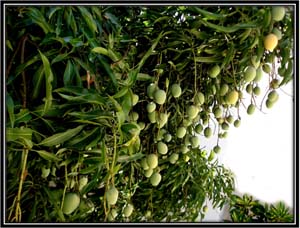 The fruit of Mangifera Indica is one of the many favorite fruits of Indians. This tropical tree is also known as Aam in Hindi and Aamra in Sanskrit. Most parts of the tree are used as a medicine. The bark of this tree is known to contain tannins which are primarily used for the purpose of dyeing cloth. This popular tree and its parts have been proven to contain properties that can help in improving overall health of a person.
This tree is native to tropical parts of Asia and has been cultivated across the Indian Subcontinent for over centuries. Mangifera indica belongs to the family of Anacardiaceae. The mango is a national fruit of Philippines, Pakistan and India.
CHARACTERISTICS OF THE MANGIFERA INDICA
The evergreen tree of Mangifera Indica grows to a height of 10-45 meters and is dome shaped. It has linear oblong leaves that release a pleasant aromatic fragrance when crushed. The thick bark of the Mango tree is grey to brown in color and with time exfoliates into flakes. The tree has whitish red or yellowish green tiny flowers all over and the fruit is a well known drupe. The fruit however can be of different sizes and shapes. The fruit contains a thick yellow colored pulp and only a single seed. The seed is ovoid, solitary or oblong and is encased in a hard compressed fibrous pulp.
The major parts of the plant that used to make medicines include the fruit, seed, stem, bark, root, pulp as well as the leaves.
THERAPEUTIC POWERS OF MANGIFERA INDICA
The juice of the tree of Mangifera Indica is a restorative tonic and can be used to relieve heat strokes. The various parts of the plant are used as an antiseptic, astringent, dentifrice, diaphoretic, vermifuge, laxative, diuretic and laxative. It has the capacity to relieve dysentery, diarrhea, asthma, cough, bronchitis, hypertension, insomnia, anemia, rheumatism, hemorrhage, piles and leucorrhoea.
The pulp of the fruit as fed to ruminants as well. Almost all the parts of the tree are used to relieve abscesses, rabid dog, tumor, snakebite, datura poisoning, miscarriage, anthrax, wounds, blisters as well as stings. It is also an important remedy for relieving colic, bacillosis, bloody dysentery, excessive urination, indigestion, tumpanitis, asthma, glossitis and tetanus.
NUTRIENT COMPOSITION
It contains saponins, triterpenes, hydrocarbons, xanthones, phenolics, chromones, fatty acids and essential oil. It also contains Vitamin A as well as Vitamin C.
CARE FOR AILMENTS
The Mango is used widely to relieve ailments such as:
Anti inflammatory properties that help in relieving acute cases of inflammation.
Anti microbial activity: The leaf and the seed of the Mango contains anti microbial properties.
Anti viral properties: it is helpful in controlling acute cases of herpes.
Anti oxidant: the mango is a proven anti oxidant because of the radicals in the plant.
Hepatoprotective activity: it is a proven remedy for relieving liver damage.
Immuno-modulatory action: it is known to improve the immune system and can be stated to be an effective anti cancer agent.
Hypoglycemic activity
Can be helpful in relieving heart diseases
Relieves gonorrhea
Useful for patients suffering from scabies, diabetes, skin irritation, diphtheria, rheumatism, diarrhea and hemorrhoids.
AYURVEDIC PROPERTIES OF MANGO
Ipaka: Katu (pungent) Dosha: Pacifies kapha and pitta
Rasa: Guna: Laghu (light), Veerya: Shita (cold), Kashaya (astringent), ruksha (dry)
SAFETY AND PRECAUTIONARY TIPS FOR USING THIS HERB
Continuous exposure to mangoes may give rise to mango dermatitis.
PLANET AYURVEDA PRODUCTS THAT USE THIS HERB
Currently there are no Planet Ayurveda Products that use this herb as an ingredient in them; however, the below mentioned Planet Ayurveda products are useful in some conditions for which Mangifera Indica is used:
We at Planet Ayurveda are working continually to provide the best medicinal recommendations to our clients across the globe. We have a team of dedicated herbalists who are researching on natural herbs, their extracts and its reliever properties. We only use organically grown ingredients and do not believe in contaminating them with chemicals or preservatives. We neither practice nor endorse the idea of testing products on animals. We recommend that are vegetarian products are consumed only after a proper consultation session with a certified herbalist.