LINUM USITATISSIMUM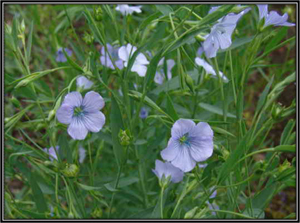 Linum Usitatissimum is one of the most widely used and known oil seed of the world. The Linum Usitatissimum is one the first crops that were cultivated for its flax, bark fiber as well as its oil. It is commonly known as Alsi.
Non-Medicinal Uses of The Plant:
Flax is used for making edible oil, as a food supplement and also an ingredient in many wood finishing products.
The flax is also grown and used as an ornamental plant in gardens across the globes.
The fibers obtained from flax have been used for centuries to make linen.
Flax oil is now cultivated in the Canadian prairies and in parts of New Zealand as well as India.
CHARACTERISTICS OF LINUM USITATISSIMUM
This plant is known to be branched and bushy. It has erected slender stems that grow up to the height of 30 cms. It has alternating stalk-less leaves. The fruits of the plant are roundish and have around 10 cells. Each of these cells contains a seed which is ovular in shape. This seed is shiny and usually brown in color. The flax or the linseed plant has glaucous green colored leaves with slender lanceolate that are 20 to 40 mm in length and around 3 mm in width. The flowers of the plant are pale blue in color and are around 15 to 25 mm in diameter. Each of these flowers has 5 petals. The fruit of the linseed plant is round and capsular.
HISTORY OF THIS HERB
The fibers obtained from the flax plant are amongst the oldest to be found. The use of it for the production of linen can be dated back to the ancient Egyptian times. The dyed flax fiber was found in the caves of prehistoric Georgia and has been dated to 30000 years ago. The use of this fiber was also an integral part of the Neolithic times. Pictures of the plant on ancient tombs and walls are evidences of its historical discovery.
THERAPEUTIC POWERS OF THE HERB
The flax seed is rich in dietary fiber, micro nutrients and omega-3 fatty acids. This herbal plant is known for reducing cholesterol levels and for its benefits for women specially. Initial researches have stated that the plant can be used to relieve diseases like breast cancer and prostate cancer. This herb is also a laxative and can be helpful in relieving problems of constipation. It is an excellent remedy for relieving intestinal blockages. The linseed or flax also contains lignin that makes the plant a good antioxidant.
NUTRIENT COMPOSITION
According to the analysis of the linseed, the moisture content in the plant in 6.5 per cent, protein is 20.3 per cent, minerals 2.4 per cent, fiber 4.8 per cent, carbohydrates around 28.9 per cent and fat content is 37.1 per cent per 100 grams of Linum Usitatissimum. The vitamins and the minerals the plant contain include calcium, phosphorus, iron, thiamine, riboflavin, niacin and calcium. The calorie count in the Linum Usitatissimum is 530. The plant also contains oil that is a source of linoleic acid.
CARE FOR AILMENTS
The seeds and oil of the herb are both used widely in medicinal mixtures. The seeds are recommended for use to increase the volume of urine.
The other health ailments that can be relieved with the help of this plant are:
Respiratory disorders: The seeds of linseed are useful in relieving respiratory problems. It is prescribed for use for patients of cough, sore chest and throat, cold as well as pulmonary conditions. A tea made from the infusion of the linseed mixed with honey or lime juice can prove to be miraculous.
Genito Urinary ailments: The seeds of Linum Usitatissimum are used to relieve gonorrhea, nephritis, cystitis as well as any kind of irritation in genito urinary organs.
Constipation: Around 2 teaspoons of seed added with water can relieve problem with constipation.
Chest Complaints: The loose poultice of the linseed can be applied externally to obtain excellent results for relieving problems like chest issues like pneumonia, bronchitis, pleurisy and broncho pneumonia. The counter irritant effect can be enhanced by dusting mustard over it. Linseed tea can be made by heating a teaspoon of powdered seeds in 360ml of water. This liquid is reduced and can be sweetened with sugar. Children suffering from wheezing or asthma can use this decoction as well.
Skin Disorders: Hot poultice made from the linseed is a popular household remedy for relieving boils, carbuncles and abscesses. It is used to relieve burns as well as skin diseases like eczema and herpes.
SAFETY AND PRECAUTIONARY TIPS FOR USING THIS HERB
The excessive consumption of flax seeds with insufficient amount of water can cause major bowel obstruction. Also, the whole flax seed is chemically sound for use but the grounded flaxseed can go bad if kept at room temperature for over a week.
PLANET AYURVEDA PRODUCTS THAT USE THIS HERB
We at planet Ayurveda understand the value of the therapeutic properties of this herb and have used it in some of our products:
We at team Planet Ayurveda are committed in providing the best to our customers. Our team of experienced herbalists work continually to formulate effective vegetarian, chemical free products. We are proud to say that we use only organically grown ingredients in our products and do not test the formulated drug on any animal.