FOENICULUM VULGARE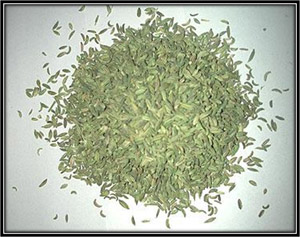 Fennel is an aromatic plant which has been used for several years as a flavouring herb. It is commonly known as fennel. In Hindi it is called saunf. This plant is cultivated throughout India. It is indigenous to Middle Eastern countries.
PARTS OF THE PLANT USED
Stem, roots, oil, seeds and leaves of the plant are used for culinary and medical purposes.
CHARACTERISTICS OF FOENICULUM VULGARE
Fennel is a perennial tall plant which has deep roots. The stems are hollow and glossy. Feathery leaves look like threads. Dull, small yellow flowers appear in clusters during summer and oval brown seeds are seen in the later stages.
THERAPEUTIC POWERS OF FOENICULUM VULGARE
It is an aromatic sweet plant used as a diuretic herb which shows positive influence on the digestive system, improves lactation, relaxes muscle spasms and reduces inflammation. It has carminative, expectorant and aromatic properties.
INTERNAL USE:
Fennel is used as a diuretic, antispasmodic, pain and fever reducer and also has antimicrobial properties.
It soothes the bronchial tubes and has a mild estrogenic effect.
Fennel relaxes the muscle lining in the digestive track and helps to tackle problems like gas, indigestion, colic, dyspepsia and reduces intestinal spasms.
It increases lactation in nursing mothers.
Fennel is also useful in relieving menstrual problems and provides relief from the griping effects of laxatives.
The juice which is extracted from the fruit or herb is useful in relieving catarrah and coughs of the respiratory tract in adults and children.
The root of the plant is useful in relieving urinary disorders.
Fennel leaves are used as a herb in salads and also snails and fish.
The seeds of the plant are used in flavouring biscuits, breads, stuffing and sausages.
EXTERNAL USE
Fennel can be used as a mouth wash for relieving sore throat and gum disease. The essential oil can be used as a liniment to apply on the chest for relief from bronchial congestion.
The essential oil can be used to relieve conjunctivitis, skin ailments and blepharitis of the eye.
AROMA THERAPY
The essential oil is rich in phenylpropanoids and sweet. This essential oil is useful in aromatherapy.
Fennel essential oil boosts up the mood and instills courage and confidence. It is helpful in detoxifying the body and relieves hangovers.
It acts as a tonic for kidneys, liver and spleen. It helps to reduce fat, eases flatulence and constipation.
It acts as a cleanser and removes wrinkles.
The essential oil has anti-spasmodic, antiseptic, carminative, aperitif, de-toxicant, expectorant, laxative, insecticide, stomachic, stimulant and tonic properties.
NUTRIENT COMPOSITION
It comprises of minerals and vitamins like phosphorous, calcium, sodium, iron riboflavin, thiamine Vitamin C and niacin. Fennel seeds consist of 9.5 percent protein, 6.3 percent moisture, 10 percent fat, 13.4 percent minerals, carbohydrates 42.3 percent, and 18.5 percent fibre. In the essential oil of fennel fatty acids like petroselinic acid and palmitic acid are present.
CARE FOR AILMENTS
This herb has several relieving powers; some of them are as follows:
Digestive disorders: Fennel has been used as a digestive aid in India since ages. It is often eaten after a meal which will support digestion. A tablespoon of fennel seeds boiled in 100 ml of water is useful in relieving biliousness, indigestion, constipation, flatulence and atonic dyspepsia. Chewing the seeds prevents bad breath, vomiting, indigestion and constipation.
Colic: Fennel is supposed to be one of the safest herbs to relieve colic in babies. It can be used along with other herbs like crushed caraway seeds and peppermint. To relieve colic in babies, a teaspoon of fennel seeds should be boiled in a cup of water and allowed to steep for some time. The water should be strained and allowed to cool. This water can be given to the babies for relief from colic.
Respiratory disorders: leaves of fennel plant are effective in relieving bronchitis and asthma. Fennel seeds when eaten with fig fruit will work on bronchitis, cough and lung abscesses.
Menstrual disorders: Fennel seeds are useful in regulating menstrual periods. For relief from painful menstruation, an infusion of fennel seeds can be used.
Eye disorders: Application of the leaf extract along with honey on the eyes will relieve conjunctivitis. Herbalists advice, to wash the eyes with fennel tea for relief from soreness and inflammation.
SAFETY PRECAUTIONS AND SIDE EFFECTS IN USING FOENICULUM VULGARE
Pregnant women should avoid using the herb and the essential oil. Women who suffer from breast cancer also should avoid the usage of fennel in all forms. People with kidney problems and epileptics also should not use fennel.
PLANET AYURVEDA PRODUCTS THAT USE FOENICULUM VULGARE
Planet Ayurveda recognizes the relieving properties of this herb and is using it in the following product:
All our Planet Ayurveda products are manufactured with 100 percent natural and vegetarian ingredients, without any chemicals or preservatives. We rely on ancient Ayurvedic texts to prepare all the medicines. We do not encourage testing of our products on animals. All the medicines and herbal supplements undergo quality checks at various levels. For a healthy and disease free life use Planet Ayurveda products.