COMMIPHORA MUKUL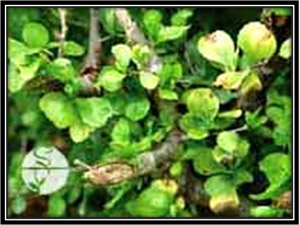 The common name of Commiphora Mukul is Indian Bdellium tree. In Hindi it is called Guggul and the Sanskrit name is Guggulu. It is considered as an important herb in India, Middle East and China. Since ancient times it has been used for relieving infected wounds, digestive and bronchial complaints. The resin of the plant is used in prayers and for offerings in Hindu tradition.
This plant is found from Central Asia to Africa and is seen mostly in northern India.
Guggul produces a resinous sap which is known as gum guggul. Extract of the gum is known as guglipid which is used extensively in Ayurvedic and Unani medicine since ages.
Guggul's fragrance is the same as that of myrrh and it is widely used in the manufacturing of perfumes and incense.
In India guggul is available in the form of dhoop which is burnt over hot charcoal. It produces a smoke which is dense and fragrant. This smoke is said to eliminate evil spirits from the home. In several homes in India, Guggul is burn everyday in the evening to ward off evil spirits and for the good health of the family members.
CHARACTERISTICS OF COMMIPHORA MUKUL
It is a shrub which reaches a height of 4 meters and the bark is papery and thin with thorny branches. Leaves are trifoliate and simple with ovate leaflets. Some plants produce male and bisexual flowers and few other plants produce only female flowers. Flowers have four small petals and red to pink in colour.
PARTS OF THE PLANT USED
Resin, gum, leaves and stem of the plant are used as a medicine.
THERAPEUTIC POWERS OF COMMIPHORA MUKUL
It is used for its anti-inflammatory, bitter, carminative, stomachic properties. Guggul also acts as an expectorant, diaphoretic and also a uterine stimulant. The resin of the plant when used as a lotion relieves indolent ulcers. Gargling with the resin helps in relieving Pharyngitis, ulcerated throat, and tonsillitis.
NUTRIENT COMPOSITION
Guggul resin consists of lignans, aliphatic tetrols, phenylpropanoids and terpenes. Essential oil extracted from the gum comprises of eugenol and mycrene.
CARE FOR AILMENTS
This herb offers relieves for several ailments. Some of these are:
Cholesterol: Guggul helps to control high cholesterol and lowers lipoproteins which are harmful. It also helps in breaking of blood clots.
Obesity: Guggul aid in breaking up fat cells in the body. Hence it is useful for weight reduction.
Thyroid problems: Guggul influences the production of thyroid hormone. Proper thyroid gland functioning results in eliminating problems related to thyroid and also weight loss.
Arthritis: Guggul reverses the degenerative effects occurring in bones and joints and relieves pain in arthritis.
Skin diseases: It functions as a blood purifier and hence is useful in relieving several skin ailments.
Painful menstruation: Several problems related to the uterus can be effectively relieved with guggul. It reduces menstrual disturbances and also painful menstruation.
OTHER USES
Guggul can be used to relieve diseases like gout, rheumatoid arthritis, paralysis, osteoarthritis, lymphadenopathy etc.
Guggul helps proper functioning of the digestive system, secretion of digestive juices and works like an appetizer. It eliminates problems like constipation and indigestion.
Guggul is useful in relieving belching and hyperacidity.
It is effective in relieving colitis and hemorrhoids.
As guggul increases the count of the white blood cells, the risk of coronary artery disease is reduced.
It has powerful disinfecting properties.
SAFETY PRECAUTIONS AND SIDE EFFECTS IN USING COMMIPHORA MUKUL
It is advisable to consult a practitioner before consuming any herb or herbal supplements. Over dosage of this herb may lead to complications like diarrhea, anorexia, nausea, pain in the abdomen and skin irritation.
PLANET AYURVEDA PRODUCTS THAT USE COMMIPHORA MUKUL
Planet Ayurveda recognizes the relieving properties of this herb and is using it in the following product
All our Planet Ayurveda products are manufactured with 100 percent natural and vegetarian ingredients, without any chemicals or preservatives. We rely on ancient Ayurvedic texts to prepare all the medicines. We do not encourage testing of our products on animals. All the medicines and herbal supplements undergo quality checks at various levels. Opt for Planet Ayurveda products and seek long lasting, good health.